Bosnia-Herzegovina on Monday formally submitteda long-awaited and contentious application to join the EU, a move welcomed by the bloc which must now decide whether to give the country's reform path a boost by granting candidate status.
Cautioning that joining the bloc would be difficult, EU Enlargement Commissioner Johannes Hahn said: "Membership is not possible within a couple of months, or even a few years."
"Congratulations, but it's the beginning of very hard and tough work."
Bosnia's complex governing structure and divisions between its Serb, Croat and Bosniak populations have hampered reforms and exacerbated political dysfunction in the country since the end of the 1992-1995 war following the break-up of Yugoslavia.
The slow pace of reform and bitter political bickering have left Bosnia behind fellow Balkan states, all of which, with the exception of Kosovo, are either EU member states or candidate countries.
"Many doubted ... that we would be in a position to apply for EU membership because of the complex relations we have in Bosnia-Herzegovina," Dragan Covic, the chairman of Bosnia's tripartite presidency, said.
But the prospect of EU membership could bind thefractious country together and give impetus to much needed reforms, which Covic said were needed to make the country a "credible" member of the EU.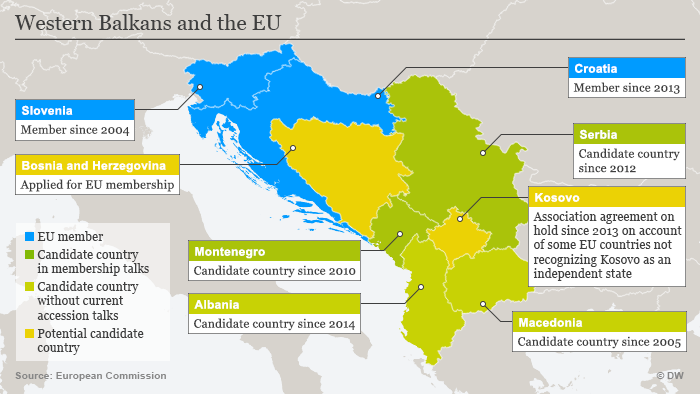 The EU could make a decision to grant Bosnia candidate status by the end of this year or 2017, but much remains dependent on the pace of reforms, especially in the judiciary. Candidate status would then trigger membership talks, but final accession to the EU is likely a long way off.
For Croatia, the only western Balkan country to join the EU, the accession process took a decade.
In June of last year, Bosnia's Stabilization and Association Agreement (SAA) with the EU went into effect. An SAA entails the state seeking EU membership to commit to certain reforms and provides customs-free access to the common market.
EU foreign affairs head Federica Mogherini said Bosnia's desire to join the EU was a testament to the bloc's power to integrate.
"At a time when the Union is questioned from within, seeing that with our immediate neighbors there is such an energy and willingness to join and work hard to adapt their countries, society, economy, institutions, systems to the European standards, gives us the sense of responsibility we have also towards our European Union citizenship," she told journalists.
cw/kms (AFP, AP, dpa)