A weeks-long heat wave and severe drought conditions in many parts of the South Asian country have destroyed crops and killed livestock. At least 330 million Indians are facing an acute water crisis due to a lack of rain and soaring temperatures. Monsoon rains are not expected before June.
So far, some 300 people have died of heat-related problems this month, including 110 in the state of Orissa, 137 in Telengana, and another 45 in Andhra Pradesh, where temperatures since the start of April have reached 44 degrees Celsius (111 Fahrenheit).
Y.K. Reddy, a meteorological official, said the situation would likely get worse in May.
Water crisis
The southern Karnataka state is one of the worst-hit regions.
"The Bhima River has dried up. We are distressed as we don't have water and we have to travel at least three to four miles to get some water," Mahiboob, a resident of the Gulbarga city, said Saturday.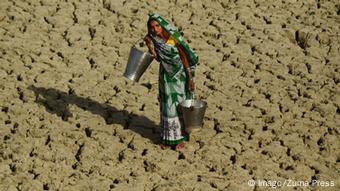 The situation has forced authorities in some Indian states to ration drinking water
The residents of the eastern West Bengal state are also facing a similar situation.
"The water crisis is very bad here. Wells have dried up in almost every household. The water from hand pumps is not fit for drinking or for other chores. The few areas which have access to water also don't get usable water. This is causing us a lot of discomfort," said Babita Acharya, a resident of the Siliguri city.
Ban on daytime cooking
Meanwhile, the authorities in the eastern state of Bihar have banned people from cooking during daytime. Accidental fires due to dry and hot weather have killed some 80 people in the country.
"We call this the fire season in Bihar," Vyas, a disaster management official, said on Friday. "Strong, westerly winds stoke fires which spread easily and cause great damage," he said.
More than 1,800 people had died last year as a result of a blistering heat wave sweeping across the South Asian nation. Most victims of the soaring temperatures were homeless and elderly people as well as construction workers.
shs/jr (AP, Reuters)