It's surely every artist's dream - an exhibition dedicated to their creative output at the most famous museum in the world. However, for a pop musician, it's perhaps harder to envisage their music and videos adorning museum walls. The experimental Icelandic singer Björk had to be convinced by New York's Museum of Modern Art (MoMA) that her work would translate into a visual exhibit.
Indeed, while honored by the proposal, she later admitted in an interview to the "Frankfurter Allgemeine Zeitung" that she had initially rejected the flattering proposition. But two years ago a friend gave her courage. "He said, 'Do it for the women! And do it for the sound!' That, I thought, was an argument," Björk said. The MoMA exhibition is an all-encompassing retrospective of this determined and innovative woman - and opened to the world by no coincidence on International Women's Day, March 8. The unique show runs until June 7.
Life is art
Björk Guðmundsdóttir is not the first musician to be paid tribute by MoMA with a major exhibition. British singer David Bowie, German electro pioneers Kraftwerk and New York indie rockers Sonic Youth have previously been invited to present themselves and their music at the most influential art museum in the world. This time, however, the pop singer presents her entire life as a work of art - encompassing songs and videos, costumes and instruments, films and paraphernalia, sounds and performances.
Björk has also penned a new song for the exhibition entitled "Black Lake," which is presented to visitors on a recurring loop. "It is an interesting task for a musician," she says, "that someone can enter the song at any point and it makes sense." Visitors wander with an interactive app and headphones through the world of her songs. And Björk's music videos, films in which she starred, and specially made instruments used to record her last album "Vulnicura" are all presented.
Between elf and robot
The exhibition reveals a great deal about the 49 year-old-singer with the almond eyes and her long career in the music business. At the age of just 11 she released her first album, which made her a child-star in her native Iceland. In 1987, she founded the Sugarcubes, the band with whom she recorded four internationally successful albums. In 1993, she relocated from Iceland to London and released her first solo album, "Debut," which was an instant triumph going on to sell nearly five million copies worldwide.
Björk weaves elements from numerous musical styles into her own work, experimenting with vocals and instrumentation. She has collaborated with internationally renowned producers, directors, designers and photographers - and slipped into an exhaustive cast of costumes and characters in her music videos, presenting herself as an elf and fairy, a robot and a scientist. Björk has sold more than 20 millions albums worldwide.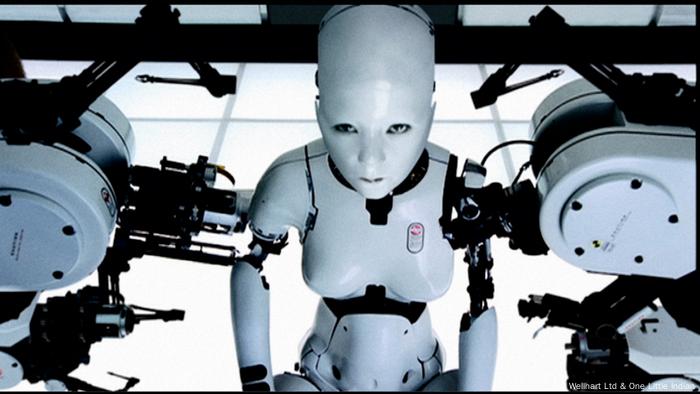 Extremely versatile: Björk presents herself as a robot woman in the MoMA exhibition
On film and love
The enterprising artist has also dabbled as an actress, staring in Lars von Trier's film "Dancer in the Dark," where she played a young woman blinded by a hereditary disease who tries to protect her son from the very same fate. Her performance earned her criticism at the Berlin International Film Festival, however in Cannes the film received the Palme d'Or and Björk was crowned Best Actress.
In 2000, Björk met and fell in love with the art filmmaker Matthew Barney. The seemed like the "perfect" couple, but separated in 2013. The pain of separation is very much at the heart of her most recent album "Vulnicura." But it also sings of her healing. "The first six pieces document the decline of the relationship in chronological order," Björk told the music magazine "Musikexpress." "Then there is a break and then the songs are about how to succeed, how to cope."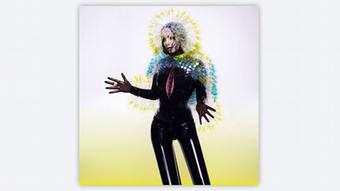 The cover of Björk's new album 'Vulnicura'
Music in a digital world
The new album was supposed to be released simultaneously to coincide with the exhibition, but two months ago songs were leaked to the Internet. Björk, however, did not respond angrily - instead she approved, choosing to release "Vulnicura" immediately in response. The songs, she says on reflection, would not have been suitable for the exhibition in any case, perhaps a little too old-fashioned and too sad. Too emotional for the "Ice Queen of Pop."