A team of eight vets and poultry workers at the farm in Wachenroth, Bavaria, started what officials called the biggest ever culling operation in Germany late on Saturday. The birds were placed in three large containers where they were either gassed or electrocuted, officials said after the operation ended on Sunday afternoon.

Tests by the Friedrich Loeffler Institute of Veterinary Medicine had found the lethal strain of the virus in five of the birds.

A three-kilometer exclusion zone was set up around the farm, near the city of Erlangen which is about 200 kilometers (120 miles) north of Munich, as officials began tracking down the cause of the infection. Initial reports said the infected animals came from another poultry farm in the northern state of Lower Saxony, but this was later denied.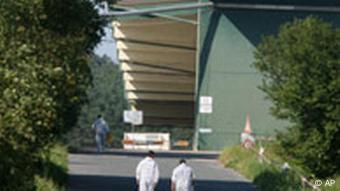 Tests determined that birds at the poultry farm died of the H5N1 strain of bird flu
"We have not been able to pinpoint the source of outbreak," said Bavarian Health Secretary Otmar Bernhard. Experts are expected to keep trying to determine how the virus entered the farm.

The H5N1 strain of avian influenza has killed nearly 200 people in recent years, mainly through direct contact with poultry. Most of the victims have been in Asia. There have been no human deaths from bird flu in Europe, where outbreaks were reported recently in several countries, including Germany and the Czech Republic.

Bird flu hit wild birds and some domestic poultry in other parts of Germany this year. Wild birds can infect domesticated birds with the highly pathogenic strain and it is feared that it could mutate into a strain that could be transmitted among humans.