Billie Eilish's new song, "Lost Cause," is finally coming out on June 2. Fans of the pop superstar with indie roots spent the last few days sharing their excitement on social media after the singer teased fans on Instagram with a post: "New song out next week."
Soon after, Eilish wrote another elusive message that had fans speculating about the song's name, which will be accompanied by a music video and which is the fourth song to be previewed from the Happier Than Ever album, which is due for release July 30.
The youngest person and the first female artist to win the four top Grammy categories, 19-year-old Eillish has been constantly trending on Instagram and the anticipation is palpable.
While publicity-hungry celebrities can dominate social media trends to keep in touch with fans, Billie Eilish's attraction extends to her frankness about her body issues, and her openness about her feelings.
Opening up to her fans
Her book Billie Eilish – by Billie Eilish, published last month, includes numerous photographs of her childhood that offer a close and personal look into the young pop star's life.
"I don't want this book to feel like a chore, I want it to feel like a photo book you might have of yourself," she writes in the introduction. "They all vary in levels of intimacy, because that is life… I just want you to see me and my life, with your own eyes."
One snapshot of her brother, her musical collaborator from the start, shows him holding his baby sister's hand with the caption: "My big brother, Finneas. Been best friends from the beginning."
Many pictures are also of her close-knit family and show Eilish with her brother, mother and father, and the many puppies that feature in her shows and are often adopted by fans.
The book's openness and humility echoes Eilish in her documentary, The World's A Little Blurry, which tells the story of a teenager who is juggling exuberance and angst in an uncertain world.
The film, released on Apple TV earlier this year, is about how the star recorded her first album, When We Fall Asleep, Where Do We Go?
The album included her massive breakout hits like "You Should See Me in a Crown" and "Bad Guy," and won Eilish and her brother Finneas seven Grammys in 2020.
Eilish is also the youngest singer to sing the theme song for a James Bond movie in the upcoming No Time to Die.
'Songs that are so personal'
Just a couple of months after the documentary was released, Eilish appeared on the cover of Vogue in a version of herself that caught fans by surprise.
The former fashion deviant showed herself in an elaborate corset dress designed by Alexander McQueen – a stark contrast from her oversized clothes.
Vogue's Laura Snapes, who interviewed the singer for the article accompanying the photo shoot, quotes Elton John: "I don't think there's ever been such a young pop artist to write songs that are so personal… Billie Eilish's songs come from within her."
For Eilish herself, the photo shoot, inspired by 1950s model and pin-up girl Betty Brosmer, was an out-of-the-ordinary affair.
"I've literally never done anything in this realm at all … Y'know, besides when I'm alone and shit," she told the magazine.
And then, there is also a certain degree of hesitation regarding wearing a corset that triggers Eilish to think aloud: "If you're about body positivity, why would you wear a corset? Why wouldn't you show your actual body?"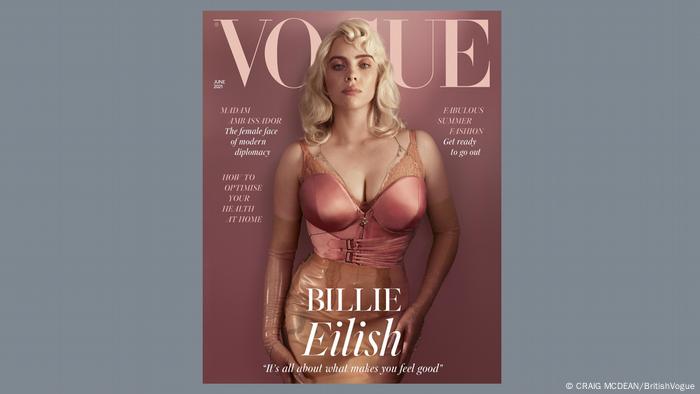 The killer cover: Eilish's sexy appearance made a big stir
Calling out sexual abuse
Then again, why not. Ultimately for the singer, it's about exercising her free will, which is also about adult responsibility, especially towards young people when it comes to matters like sexual abuse.
"I don't know one girl or woman who hasn't had a weird experience … or a really bad experience," she said.
According to the Rape, Abuse and Incest National Network (RAINN), the largest anti-sexual violence organization in the US, an American is sexually assaulted every 68 seconds. Every 9 minutes, that victim is a child.
As Vogue's Laura Snapes said, "Eilish's stardom reflects the contrary teenage aspiration to be validated for your differences."
And that's how the pop star combines the seemingly contradictory wishes of wanting to show her body and yet not invite critical comments, or worse, sexual abuse.
As she told Vogue: "My thing is that I can do what I want."