Manger square, the area surrounding the Church of Nativity, where Christians believe Jesus Christ was born, is usually bustling and local businesses do their best trade of the year. But this week they are reflecting on how to turn around a stagnant economy. One that hasn't been helped by the recent snow storm - the largest in the region since 1953.
An oversized artificial Christmas tree, around 55 feet (16.7 meters), that was made in China stands beside the Church of Nativity, covered in shiny red baubles with a large metal star at its top. The decorated tree is just steps away from the Omar Mosque.
Nabil Giacaman, 30, a Christian, helps his father Issa in the family shop, Christmas House, which sells holiday-themed ornaments and nativity scenes carved from local olive wood.

He said local businesses are doing well, despite the setback posed when the municipality set up an outdoor Christmas market directly outside their shops, taking business away.

"Most of their stuff is made in China; ours is made locally and supports the locals," Giacaman said. "It is not common sense to set up direct competition for us and take business away from the local economy. Guides are taking tourists to big shops where the commission is 40 percent and no one is preventing them. I am suffering from this."

However, Giacaman was happy to report that there are few conflicts between the region's Christians and Muslims, as exemplified by the fact that the Mosque of Omar and two Christian churches easily coexist on Manger Square.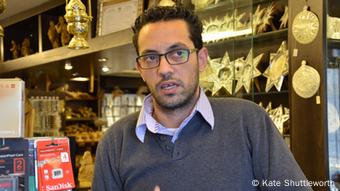 Business has seen better times, says Giacaman
Giacaman's father, Issa Giacaman, recalls when the city's economy fell victim to extreme violence. In March, 2002, the Israeli Defense Force rolled into Bethlehem two days after a Palestinian suicide bomber killed 30 Israelis and injured 160 in Netanya. Two hundred gunmen, mostly Fatah and Palestinian Authority policemen, took refuge in the Church of the Nativity, holding 46 clergymen and up to 200 civilians hostage as the IDF closed in on the sacred site.

During the 39-day siege, Issa Giacaman's warehouse, where he stored the olive wood he used to carve the ornaments he sold in his shop, was destroyed.

This year, said George Hadweh, manager of the Bethlehem peace center restaurant and bar in Manger Square, business was great prior to the rare snowstorm, but for him has been extremely difficult since.

"We were closed last week because the pilgrims didn't come - I couldn't even make it to work because the roads from my home in Beit Jala were blocked," Hadweh said. "We were supposed to have 80 people for lunch, but it was canceled when the bus couldn't reach us."
The Israeli stranglehold
Bethlehem is also still reeling from seven years of international sanctions, the construction of the West Bank security barrier with Israel, and random incidents of violence. Though it is just a few miles from Jerusalem, the city has been cut off since 2003, when Israel erected a security wall during the violence of the Second Intifada, which lasted four years, saying it was necessary to protect Israeli citizens from Palestinian terror attacks.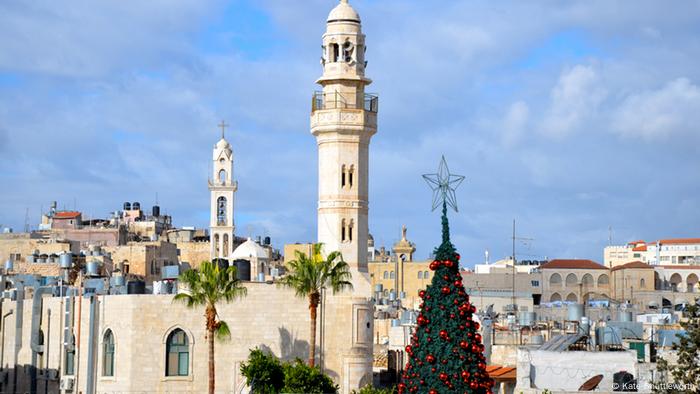 Between a rock and hard place: What does the future hold for Bethlehem?
Bethlehem's history and its association with Christianity is what attracts visitors, and Christmas is the obvious season. Beyond that, many wonder about the city's future. Modern Bethlehem struggles under the occupation and what many see as Israel's refusal to provide some sort of financial injection into the Palestinian economy in return for propping up its own tourism industry.

Bethlehem Mayor Vera Baboun, 49, is the city's first woman mayor. She's Christian, a widow and a mother of five who also remembers the 39-day siege well.
Her husband Jonny, a Fatah member, was imprisoned by Israel for three and a half years during the first intifada, leaving Baboun to raise their young family alone. He died in 2007 and was given a martyr's funeral at the Church of the Nativity, which Baboun can see from her office every day.

"It was tough - the 39 days, not only on the nativity, on the city as well. The deported are all still away."

She agrees there's now little conflict between the city's Muslim and Christian communities. "In Bethlehem we talk about Palestinians per se; there is no schism between Muslims and Christians. The only schism is a national one, between Fatah and Hamas."

Baboun is working hard to reclaim Bethlehem as a Palestinian tourism site. According to latest Israeli tourism figures, 65 percent of Israel's tourism earnings rely upon tourists visiting Bethlehem. Yet that money doesn't always return to the Palestinian city, she says.

Between January and June of this year, an estimated 1.7 million tourists visited Israel, and many of them made the short trip to the Palestinian town of Bethlehem. "Sixty-five percent of Israeli tourism is because Bethlehem exists, and yet Bethlehem does not really, economically, humanly benefit from tourism," Baboun said. "It's not a matter of numbers only, it's a matter of efficient presence in Bethlehem. When I consider the movement of tourists in Bethlehem, I consider Bethlehem as if it is not a touristic city."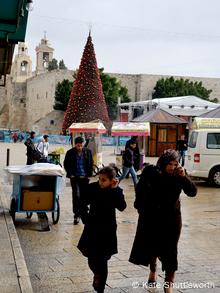 For many tourists this is the highlight of the year
Baboun said pilgrims typically entered the Church of Nativity and left Bethlehem within three hours. Christmas events in the city began on December 1, and while Baboun doesn't think the tourist influx is as high as normal, she conceded that all 3,300 hotel rooms in Bethlehem are booked for Christmas.
Dwindling Christian numbers
Bethlehem is part of a trio of towns, including Beit Jala and Beit Sahour, that locals refer to as "the Triangle." Taken together, they comprise 70,000 residents, and Christians still maintain a majority. But in Bethlehem they are barely one-third of the population, their ranks having been severely depleted by the Christian exodus during the worst years of the Second Intifada.
Samir Qumsieh set up the first Christian television station that ran into debt and is now funded by evangelical organisations abroad. Qumsieh, a Christian community leader who lives in the neighboring town to Beit Sahour, says the future of Christianity is "gloomy."
He says the birth rate among Arab Christians was much lower than their Muslim neighbors and a higher rate of emigration was resulting in a dwindling population. "We are the weak link in the chain being a minority. I call it a Christian sandwich - we are squeezed between two cruel fundamentalisms: Judaism and Islam."