"We say it will be closed. That is very clear," Wowereit told Berlin's parliament on Thursday.
After further assessments, the federal government and the states of Berlin and Brandenburg, joint owners of the airport, determined that allowing competition from Tempelhof would threaten the viability of Berlin-Brandenburg International (BBI) Airport, Wowereit said.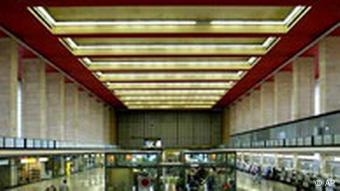 Tempelhof is a tourist attraction for those interested in architecture

BBI is being built on Berlin's southeast border in the state of Brandenburg, where Schönefeld Airport now stands. It is expected to open in late 2011, and both Tempelhof, in central Berlin, and Tegel, in the city's north, will be closed. Tempelhof, which was built under Hitler, is set to shut on Oct. 31, 2007.
Numerous airlines that offer flights from Tempelhof have taken legal action to prevent the airport from being closed. Opponents of the airport's closure have said it won't endanger BBI.
Open to investors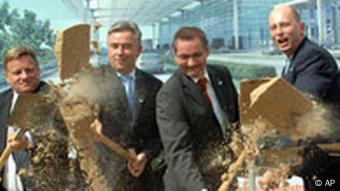 Breaking ground for the BBI: Wowereit (second from left)
"BBI is being built as a substitute airport. This function, however, won't be affected, if business flights are kept at Tempelhof," said Elmar Giemulla, a professor of aviation law and head of the Aircraft Owners and Pilots Association of Germany, at a meeting of opponents to the airport's closure.
Giemulla said BBI would instead profit from small planes using Tempelhof, since they tend to hamper takeoffs and landings.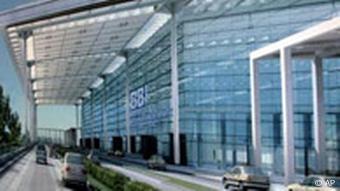 BBI will relieve city dwellers of the noise and pollution caused by Tempelhof and Tegel

It's unclear what will happen to Tempelhof once it is shut. A number of investors have shown interest in redeveloping the building. One suggested turning it into a private clinic, but only if planes continued to use it.

A Berlin-Brandenburg court will hear the case against closing Tempelhof on Tuesday and could come to a decision the same day.