The German government wrapped up a four-year-long consultation as its German Islamic Conference drew to a close. Interior Minister Wolfgang Schaeuble addressed the final session and called for a "culture of listening."
"It can be an exemplary way for our society to acknowledge and overcome all the differences that confront us," said Schaeuble.
Muslim leaders and government officials said after the conference that they hope to resume consultations after Bundestag parliamentary elections in September.
Earlier this week, data compiled for the conference revealed for the first time that five percent of Germany's population is Muslim, more than was previously thought, and highlighted Muslim discontent about public schools.
Schaeuble said the meetings since 2006 about improving the integration of Muslims in Germany had an international dimension and that German Chancellor Angela Merkel would be briefing US President Barack Obama when she meets him at the White House.
Before leaving for Washington Merkel met with Muslim community leaders at the chancellery before the conference began.
"We need your voices to understand the entire range of Islam in Germany", said Merkel.
One of the key issues to emerge from the conference is an understanding that one of the challenges facing Germany is to increase the cooperation between the German Islamic conference, states and local authorities. There is also the matter of enforcing equal rights for men and women.
"Going forward, it is imperative that we implement the recommendations that have come out of the German Islamic Conference to further the social and religious integration of Muslims in Germany," Schaueble said.
Many topics discussed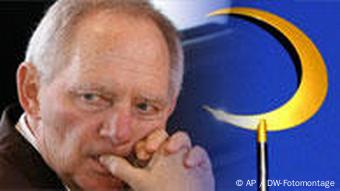 Schaeuble sees positives of Islam conference
One of the key achievements of the conference was an acknowledgement by the participants of the importance the German legal system and adhering to the basic law.
Other positive outcomes were plans for the establishment of Islamic religious instruction and the adoptions of recommendations for such practical issues as the operation of mosques and dealing with Islamic funerals in Germany.
Schaeuble acknowledged that the conference had not settled every issue but underscored the changed relationship between the state and Muslims. The German minister said a process of integration had been launched.
Education was a major topic on the agenda. One key development was a decision on women or girls wearing headscarfs at schools.
"Freedom of religion means... that wearing the veil is not forbidden", concluded the German Islamic Conference (DIK). "However, covering the whole face is incompatible with the open communication that education...requires."
Both sides recommended that German schools make concessions on the the controversial issue of mixed sex swimming classes. They also discussed issues like participation in physical education classes, school trips, and fasting during Ramadan. Education ministers will debate the conference's findings in the Fall.
Other recommendations that came from the conference had to do with training imams in Germany, and creating Islamic theological faculties here. The conference also recommended establishing Islamic theology courses at universities and lessons on Islam in schools. Sex education will remain compulsory.
nrt/av/dpa/AFP/
Editor: Jennifer Abramsohn/Mark Hallam