Speaking at the awards ceremony in the northern Spanish city of Oviedo on Friday, Crown Prince Felipe said the prize was meant to honor Berlin's achievements as a symbol of freedom and European unity.
The prince added that Berlin remained a magnet for people around the world.
"Berlin is popular with young people. It's a worldwide reference for people who associate it with everything that has to do with culture, creativity and togetherness," the prince said.
The jury said in a statement that the prize was meant to honor all those people who lost their freedom and their lives at the former border that separated West Germany from the former communist East.
It was also meant to pay tribute to Berlin's citizens who contributed towards creating an open, friendly and creative society 20 years after the fall of the Berlin Wall. The jury said that had largely contributed to the "restoring the balance between East and West."
Berlin mayor calls for tearing down of walls
Accepting the award, Berlin's mayor Klaus Wowereit, said the prize filled Berlin with pride. He said it would provide the city an additional impulse to "create a force of unity in the heart of Germany and Europe" and further develop the "open and tolerant atmosphere" in Berlin and offer people from all around the world a free live with unique opportunities.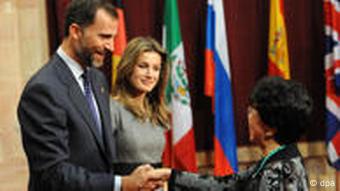 Spanish Crown Prince Felipe and Princess Letizia during the awards ceremony
Wowereit called for a dismantling of all walls and borders around the world, saying Berlin served as an example.
At the same time, Wowereit pointed out that the peaceful revolution of 1989 in former East Germany and German reunification in 1990 would never have taken place without the "support of several friends abroad."
The Prince of Asturias Prize is the Spanish equivalent of the Nobel Prize. Founded in 1981 by Crown Prince Felipe, it's awarded annually in eight categories and comes with a cash award of 50,000 euros ($75,000).
Other winners included the Albanian writer Ismail Kadare in the literature category, British researcher Sir David Attenborough in the category "social sciences," and the World Health Organization in the category "international cooperation."


sp/dpa/AP/EPD
Editor: Andreas Illmer