The Berlin International Film Festival is staying true to its nature as it opens Thursday. After all, it doesn't have much of a choice. The biggest names in European, American and Asian cinema generally head off to sunny Cannes rather than dreary Berlin every year. In response, the annual event in the German capital has carved out its own niche, drawing politically and socially engaged filmmakers and their fans.
"The entire [Berlin International Film Festival] team wants to attempt something like a new start: discovering the art in film," said festival director Dieter Kosslick, "Discovering new forms and aesthetics in international film."
Indeed, new is on the agenda: A glance at this year's screenings reveals a number of rookies and almost-famous directors. But, of course, it's the quality of the films that counts, and straying from the beaten path of Hollywood can make for a number of interesting discoveries.
"I see - formally as well as content-wise - a new generation that is not imposing and that is not necessarily doing everything possible to fit in," Wieland Speck, director of the Panorama section of the festival, told Deutsche Welle. "They are humbly stepping back [...] and this is a good thing for us."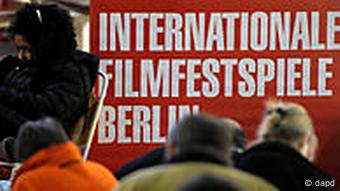 Film fans wait in line this week for tickets to the festival film showings
Where the films and their producers hail from seems to become less important from year to year. These days, most films are financed by producers from several different countries, and directors often work outside their home countries.
Turkish-German actress Yasemin Samdereli, making her directorial debut this year with "Almanya - Willkommen in Deutschland" ("Welcome to Germany"), is one example of a border crosser. The blend of Turkish and German in the title makes it clear that the film follows the experiences of people in a world that is foreign to them.
From Wim Wenders to Demi Moore
Established German directors are also in the spotlight at the 61st Berlin International Film Festival. Big names like Wim Wenders and Werner Herzog will be there - this time, however, with documentaries.
On the other hand, the young German director Ulrich Köhler will present his third feature film at the festival, while documentary filmmaker Andres Veiel will make his feature debut with the terrorist drama "Wer wenn nicht wir" ("Who if not us").
Germany's well-known directors aren't the only ones presenting at the festival, though. Austrian Wolfgang Murnberger, the eccentric Hungarian director Béla Tarr and the French animation filmmaker Michel Ocelot will also be on hand.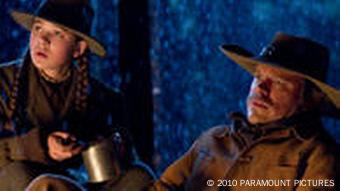 The Coen brothers' "True Grit" opens the festival
As in years past, big Hollywood stars will be scarce at the festival, while filmmakers like JC Chandor and Victoria Mahoney are only known to a limited audience. But the Berlin International Film Festival will roll out the red carpet for at least a few familiar faces: Matt Damon, Demi Moore, Kevin Spacey, Jeremy Irons, Ralph Fiennes and Diana Kruger are all expected to make an appearance.
And the festival kick offs with one of Hollywood's biggest independent names as the Coen brothers bring their opulent western "True Grit" to the screen.
"Joel and Ethan Coen stand for first-rate American independent cinema," said Kosslick. "We can again expect them to captivate the audience with their penchant for irony and off-the-wall characters."
Jury member imprisoned
It's become a tradition that films from Latin America and Asia make a splash at the Berlin festival. This year, movies from Israel and Iran are also eagerly awaited. But with its imprisonment of the famous Iranian director Jafar Panahi, Tehran has already written one of the most troubling chapters leading up to the festival.
"A festival like the [Berlin International Film Festival] cannot accept such a violation of his right to freedom of opinion and expression in the arts," Kosslick, reiterating the festival's support for Panahi and commitment to show his films during the event.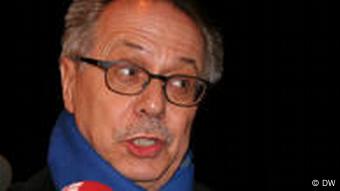 Kosslick has been director of the festival for the past 10 years
Panahi was nevertheless invited to be a judge at the festival, and his spot will remain unoccupied during the event. Italian actress Isabella Rossellini chairs the festival jury this year, and will award the Golden Bear to one of 16 films at the festival's conclusion.
The themes of family, identity and society link this year's films, largely drawn from the ranks of independent movie makers. Thirty-nine films - many with a documentary focus - explore the grave social changes and questions people from across the world face day to day.
"We are really dependent on what independent filmmakers do," Christoph Terhechte, director of the festival's Forum section, told Deutsche Welle. "Political films - that is a vast field. There are films that deal with politics explicitly; there are other films which deal with other private issues but put them in a political context. And you have always found those programs at the [Berlin International Film Festival]."
Author: Jochen Kürten / gsw
Editor: Kate Bowen