A lack of computer scientists, mathematicians, engineers and doctors is having a negative effect on the German economy and the parties in Chancellor Angela Merkel's governing center-right coalition announced on Wednesday that they intend to make it easier for highly qualified foreigners to take a job in Germany.
The German Labor Office estimates that by 2025 Germany will need some 6 million highly skilled employees and that some 2 million people will have to immigrate to Germany to meet that need. Between 2005 and 2010, some 18,000 skilled workers moved to Germany from non-European Union states.
"Labor offices and the public authorities responsible for foreigners have to make a bigger contribution to getting more foreign technical workers to come to Germany," domestic affairs expert for the Christian Democratic Union Reinhard Grindel told DW.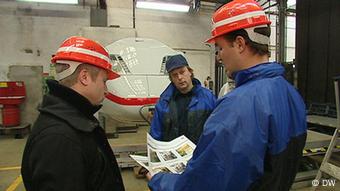 Foreign workers don't have to earn as much to come to Germany
After watching a previous "green card" system gain little traction in Germany, the government said it would present a proposal for a "blue card" law that would lower the hurdles to receiving a residency permit to make Germany more attractive to skilled workers.
To attract more skilled workers to Germany, the government parties has decided to lower annual income requirements for foreigners from 66,000 euros ($88,037) to 44,800 euros, and in the case of some highly sought professions like mathematicians and natural scientists to 35,000 euros.
As before, foreigners wanting jobs which didn't pay these minimum rates will have to ask the state employment agency to prove there was no unemployed German who could do the same job, but now, if no-one can be found within two weeks, the immigrant can start work.
Currently, non-EU foreigners looking to move to Germany to start their own business need to invest 250,000 euros and hire five people for the right to live in the country. That condition would also be removed.
In future, foreign workers who hope to get a blue card will be allowed six months to live in Germany and look for employment as long as they could financially support themselves and have a university degree.
When foreigners receive a job, they can apply for a blue card that allows them to live and work in Germany. After remaining in Germany for three years on a blue card visa, foreigners would gain the right to stay in Germany indefinitely.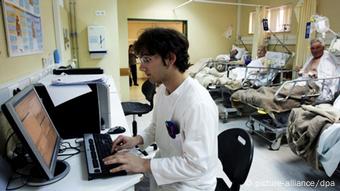 Recognizing foreign degrees could let more foreigners get jobs
Blue card rules would also give students from non-EU countries 18 rather 12 months, in which they could remain in Germany after their studies while they tried to find a job.
Germanyopposition parties said the planned changes do not go far enough. The Social Democrats and Greens said Germany still needs to do more to recognize foreign academic credentials.
"Not all foreign technical qualifications are recognized," Mehmet Kilic, Greens spokesperson for migration and immigration said.
Grindel said he hoped the new proposals would be approved by parliament in April and go into effect at the beginning of July 1.
"This represents a step toward a simple point system for the admission of qualified foreign workers," said Hartfried Wolff, spokesperson for domestic affairs of the liberal Free Democrats, junior partners in the government coalition.
Author: Wolfgang Dick / sms
Editor: Michael Lawton