Cultural institutions around Germany are struggling with the country's new economic realities. With stagnant growth and high unemployment, many of the country's most esteemed opera houses, museums and orchestras are being forced to tighten their belts.
Smaller groups in Berlin, a city classified as broke by even optimists, have been particularly hard hit. Now, following the Berlin Senate's decision this past summer to cut subsidies, the Berliner Symphoniker, the smallest of the city's eight official orchestras, is looking to start anew -- as Germany's first private orchestra.
In doing so, the director is hoping to return to solvency and set an example for Germany's other struggling cultural institutions.
"We're gonna make it on our own"
This past summer, the Berlin Senate, hard pressed to plug holes in the city's hemorrhaging budget, voted to cut the Symphoniker's €3 million ($4 million) in subsidies. It didn't take long for the 55-strong orchestra to hit the skids, and by September it officially declared insolvency.
This week, the orchestra's director, Andreas Moritz, and the lawyer overseeing the bankruptcy proceedings, Christian Köhler-Ma, announced plans to make a comeback as Germany's first independent orchestra.
In additional to the traditional cost-cutting measures -- lower wages, longer hours -- at the heart of the turnaround is an aggressive marketing campaign aimed at rebranding the orchestra as young, hip and unconventional.
Challenging the image of an orchestra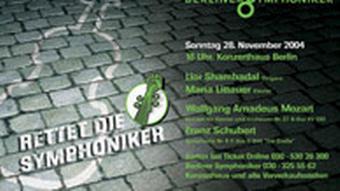 Another poster from the fundraising campaign
In its new life as a private orchestra, the Berliner Symphoniker will challenge traditional notions and look to broaden its profit-oriented horizons. As such, nothing is being ruled out, according to Köhler-Ma, who thinks so-called "crossover" ventures with pop stars may be part of the way forward.
"Ideally, we could plan concerts with Robin Gibb, Metallica, Nena or the Scorpions," he told the weekly newsmagazine Der Spiegel.
In addition, the orchestra has hired a flashy marketing company to make sure everyone knows about the "new" Symphoniker.
Moritz, the director, hopes his orchestra's success as a private enterprise will serve as an example to other cultural institutions struggling with the new economic realities. "This is a huge chance for us to set an example, and we are convinced we can survive as a private orchestra," he told the daily Die Tageszeitung.
The first challenge already looms: Moritz and company still need to come up with the €300,000 transitional funds needed to take the first step forward. They are hoping to find a major sponsor.