In the picture, you see people behind bars, children and women - but only very few men. Their clothing is more colorful than ours in the Western world. Most of them have tired or even sad looks on their faces - including the little boy at the front who holds onto a bar with both hands.
Flowers for returnees
The photograph could depict a range of different situations. Are the people in jail or do they live in a refugee camp? But then, in the second row, you see a radiant woman next to a huge bouquet of flowers. A tiny caption on the upper edge of the photo gives the solution: "Waiting for loved ones," it says. The picture shows families at Dhaka's airport waiting for their returning relatives: husbands, fathers and mothers who are taking a short vacation from their jobs as migrant workers.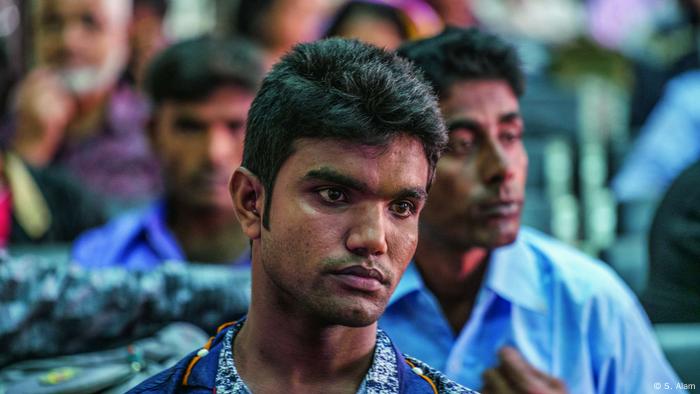 A youth lost? A migrant worker from Bangladesh
In his exhibition "The best years of my life," Bangladeshi photographer and blogger Shahidul Alam tells the stories of migrant workers from Bangladesh who live and work in Malaysia. He followed them with his camera for a year. Alam has captured very insightful views of his subjects. One of them is Sahanaz, who is lost in thought while gazing at her smartphone. She is one of the few female migrant workers, says Alam. "She said, 'I left my son when he was 1 year old. He is staying with my sisters. Now he is 11. He calls my sister 'mother.' And he calls me 'aunt,''" he relates. One can only guess at the price this young mother has to pay to feed her family.
Every year, around 500,000 Bangladeshis leave their home and travel far away to earn money. The South Asian country's economy has long been dependent on their foreign currency transfers. Shahidul Alam is aware of this. In Bangladesh, he is a well-known and feared activist. But there is no accusatory tone in the Berlin exhibition; he just documents different paths people take. There is a 3-year-old boy huddled up on his bed; he has never seen his father. Dependency and broken promises are themes that run through his photos of shabby dwellings or construction sites - promises often made by so-called work recruitment agencies. Although the government could technically revoke their licenses, it does nothing, explains Alam.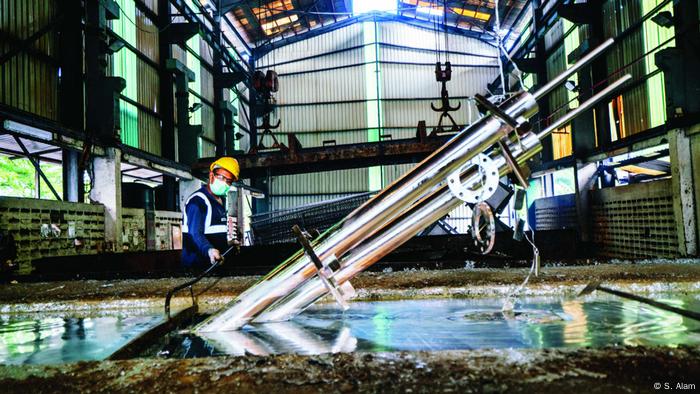 A success story: Shaheen Sardar is now general manager of a company
But his photos also tell stories of success and esteem. There is a picture of Dato, who came to Malaysia as a poor man and is now a successful businessman. Together with his wife, he sits in a luxurious living room. Or there is Bashirol, who stands in a relaxed pose next to his boss, the owner of a metal company. The men, holding onto each other's arms, seem in cheerful spirits.
Perhaps one of the most compelling images is a picture of a man with a serious demeanor. The accompanying text says he does not mind his harsh life. But ultimately, he has become painfully aware of the fact that it has cost him his youth.
Showing the migrants as human beings
He wants to show the lives of migrants "from a very human side," far removed from all clichés and stereotypes, says Alam. And he also gives us food for thought, as Alam's migrant workers are what we in Germany call refugees. People can decide for themselves how closely they want to look.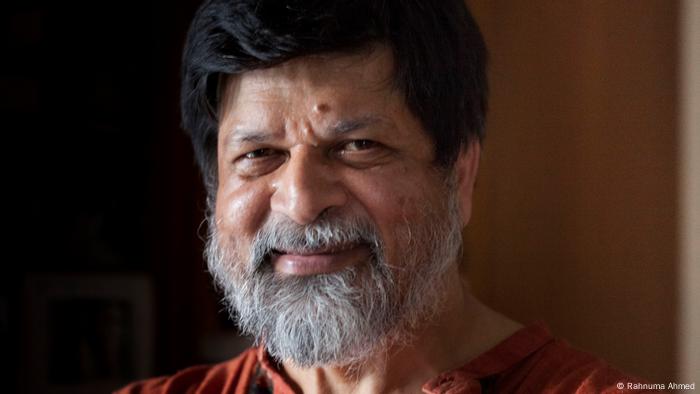 Shahidul Alam: showing life from its human side
In his next project, Shahidul Alam wants engage directly in a discussion currently taking place in Germany. As he might do in Dhaka, here, too, he wants to present his work in a mosque - the liberal mosque in Berlin recently opened by women's rights activist Seyran Ates. It is the first mosque in Germany in which men and women can pray as equals in one room. Alam is aware of the fact that the liberal mosque is subject to massive criticism and hostility. But he is familiar with this from his home country. With a mischievous look on his face, he says that mosques must become open to the world - whether in Bangladesh or in Germany.
The exhibition "The best years of my life" ran until June 30, 2017, at the German Foreign Ministry in Berlin, at the same time as an international conference on migration. Before that, it was shown at Deutsche Welle's Global Media Forum in Bonn. There are plans to make the exhibition available to schools. A book of the same name by Shahidul Alam was published to accompany the exhibition.