The five internationally acclaimed artists participating in the recently opened Berlin exhibition "Who Knows Tomorrow" - El Anatsui, Yinka Shonibare, Pascale Marthine Tayou, Zarina Bhimji and Antonio Ole - have one thing in common: Their African roots influence their work. But the show isn't meant to focus on one continent in isolation.
"We didn't want to make an African exhibition related especially to the continent. Our idea was to show contemporary artists with an African background relating to the world," Michael Eisenhauer, director of the Berlin State Museums, which are hosting the exhibition at various locations, told Deutsche Welle.
The artists in the show aren't meant to represent an entire continent, but are part of an international art discourse, he added. While they gather inspiration from local sources, "they create artworks that carry global messages."
The works of "Who Knows Tomorrow" are displayed inside and outside the main buildings of four of Berlin's major museums. All venues reflect German national identity at various points in the country's past. By presenting the artworks against the backdrop of these iconic buildings, they become entwined with Germany's own history.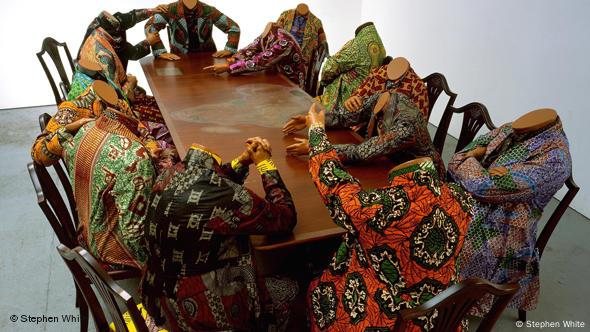 "Scramble for Africa" by Yinka Shonibare depicts the Berlin Congo Conference held in 1884-85
The continent that wasn't theirs
"Scramble for Africa" is an installation in the exhibition by artist Yinka Shonibare, who was born in London in 1962 and grew up in Nigeria. He later returned to the UK to study art.
With his life-size group of headless figures seated around a table, Shonibare dramatically re-creates the Berlin Congo Conference of 1884-85, which had been organized by then German Chancellor Otto von Bismarck to settle European colonial claims on African territories. The theatrical, discordant gestures of Shonibare's figures insinuate chaos, political intrigues and chicanery.
"'Scramble for Africa' is about people having a conference about a continent that was not theirs and deciding how they are going to divide it up without any form of consultation with those who would be most affected - the Africans," said Shonibare.
One of the exhibition's three curators, Britta Schmitz, pointed out that many Germans are not familiar with their country's own colonial history and that few even know about the Berlin Congo Conference.
"These artworks are all telling us another history," added the curator.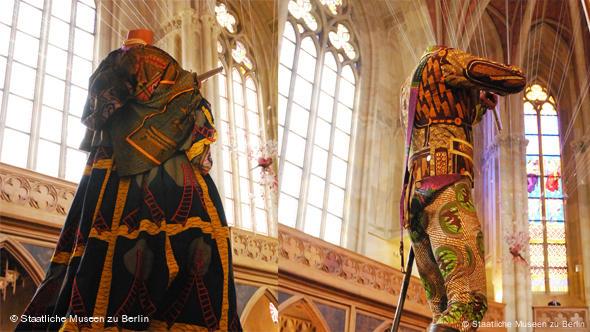 Shonibare's installation takes up much of the room; these two photos show Mrs. Oswald (left) and Colonel Tarleton
A picture of decadence and violence
Another installation by Shonibare, "Colonel Tarleton and Mrs. Oswald Shooting," depicts a headless Victorian couple - the Oswalds - hunting a pheasant. The work captures the moment when the bird is struck by a bullet and blood gushes from its sides.
More than two centuries ago, British painter Sir Joshua Reynold had painted a portrait of Richard Oswald, an avid advocate of slavery who amassed great wealth from slave plantations, together with his wife. In Berlin, Shonibare likewise depicts the Oswalds - this time showing them in decadent savagery as a metaphor for the violence of slavery and colonization.
"In 'Who Knows Tomorrow,' the artists toy with cultural diversity and utilize global cross-cultures as engines for their artistic and creative power," said Udo Kittelmann, director of the National Gallery in Berlin, one of the museums participating in the exhibition.
"They thus point out that the long-maintained claim for leadership by Western cultures and their belief to be in possession of a universal value judgement vis-a-vis the rest of the world can no longer be sustained," added Kittelmann.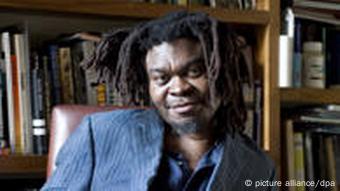 Shonibare confronts viewers with the dark side of history
The drama of Yinka Shonibare's "Colonel Tarleton and Mrs. Oswald Shooting" is heightened by its setting in Berlin's Friedrichswerdersche Church. The only building by architect Karl Friedrich Schinkel that has largely remained intact, the church heralds a spirit of Prussian confidence with its neo-Gothic design and red brick-facade. The early 19th-century structure reflects the liberal spirit of the Enlightenment - a spirit of tolerance, mutual understanding and inspiration - that prevailed in Prussia after the bourgeois revolution of 1848.
'Traces of Africa are all around'
While Shonibare's works uncover dark ironies and incongruities buried within Europe's historical approach to Africa, an installation by El Anatsui touches on the interdependencies that arose between the two continents.
Anatsui, born in Ghana and today a professor of sculpture at the University of Nigeria Nsukka, has knotted together aluminium strips from liqueur bottle caps and evaporated milk-cans. His metal cloth reflects the sun. With this technique, Anatsui captured international attention at the 52nd Venice Biennale in 2007.
When the first colonials went to Africa, they brought along bottles of alcohol, pointed out curator Britta Schmitz. "This makes clear that we cannot put aside our responsibility for the colonial history," she said. "Our colonial past is really still quite alive; traces of Africa may be found all around."
Many kinds of dividing walls
Traces of German history are also present around the capital and were built into the exhibition. Berlin's Hamburger Bahnhof stood in the shadow of the Berlin Wall during the Cold War. Since German reunification in 1990, the former railway station has been transformed into one of the world's largest museums for contemporary art. For "Who Knows Tomorrow," artist Antonio Ole built a new kind of wall: Shipping containers cover the entire length of the museum's West Wing.
What's meant to be inside the containers is not immediately clear. It could be goods en route to market, weapons, waste - or even refugees. Ole insists that his piece doesn't have a political message.
The artist's wall of containers, called "The Entire World/Transitory Geometry," evokes the earlier partition of the German capital, but also the centuries-old history of trade between Europe and Africa and the sealing-off of Europe from refugees and immigrants forced to leave their homes.
Ole's work reminds visitors of shanty constructions on the fringes of cities in the developing world. But the containers come from Berlin and could just as easily point to the often unspoken squalid living conditions of immigrant populations existing in the outskirts of cities in highly developed countries.
Exhibition co-curator Chika Okeke-Agulu said a project like "Who Knows Tomorrow," which critically examines Africa's ties to Europe through art, likely would not have been possible five or 10 years ago.
While he is encouraged by the launch of the unique show in Berlin, he pointed out that the African artists represented there are underrepresented in permanent exhibitions.
"It's one thing to have these mega-exhibitions, but when you actually look at major museum collections, you hardly find their work," he said. "So that is, if anything, the next step."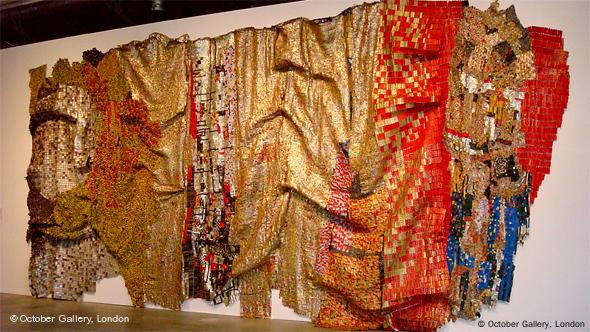 "In the world but don't know the world" (2009), by El Anatsui
Author: Peter Zimmermann
Editor: Kate Bowen