As he saws through a long length of bamboo, Dan Vogel-Essex grins and explains why bamboo is perfect for making bicycle frames.
"Bamboo is an amazing material," he says. "In just about all aspects, it's like a steel frame - it's durable, it's fairly light. It's quite stiff, but really the property that just shines above all the rest is the comfort - the vibration absorbing qualities of it."
Vogel-Essex is a designer and one of the partners of Berlin-based Ozon Cyclery, which runs workshops for anyone interested in making their own bike from bamboo.
Over the past three years, he and partner Stefan Brüning have been refining their bamboo bike construction techniques.
In their small workspace, located in an old railway yard, long strands of bamboo lie on overhead racks. A dozen or so handmade bamboo bike frames are in various stages of construction. Saws, sandpaper and epoxy resins line the workbenches along with bolts of natural fiber cloth - the tools and materials for working with bamboo.
Cutting bamboo tubes to the correct length is easy
Brüning says their first bamboo bike barely made it out of their workshop before breaking.
"There was no way of how to do it available on the Internet or any place where you could learn how to build a bamboo bike. So we had to figure it out on our own," he says.
Today, the pair can build virtually any type of bicycle frame from bamboo - from mountain and touring bikes to racing bikes. Brüning says a typical bamboo frame weighs about 1.75 kilograms (3.7 pounds).
The wider, the better
Brüning and Vogel-Essex found that tiger bamboo is a good species for producing bike tubes. An adjustable jig is used to precisely set the geometry of the bamboo frame and can be similar to any other type of bike. However, Vogel-Essex and Brüning worked out that bamboo bike tubes need to have a diameter of 40 to 70 millimeters (1.5 to 2.7 inches) for the best performance.
Vogel-Essex says the diameter of bamboo tubes for bicycles has to be wider than standard steel tubes. "Of all the tests we've done and things that we've tried, the biggest problem with bamboo is that it tends to be flexible - which is also a benefit - and the super simple answer to making it stiff is diameter - it's got to be wide."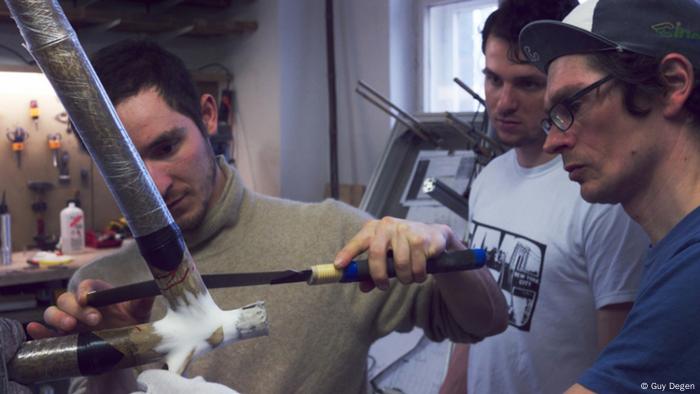 Designer Dan Vogel-Essex (left) shows workshop participants how to shape their bamboo frame
Joining the tubes together is perhaps the biggest challenge for a building a bamboo bike frame and manufacturers differ in their approach. Some wrap tubes together with strips of hemp soaked in epoxy resin, while others use steel joints. Bamboo draws its strength from the density of its outer and inner layers of fibers. So Vogel-Essex and Brüning looked to other industries such as aeronautics to develop a way of joining bamboo together using flax fiber composite materials.
"It's almost like we are learning from nature," Vogel-Essex says. "Nature makes tubing which is pretty much perfect already. We make the joint as good as the tubing itself."
It takes about 30 to 40 hours of work to produce a bicycle from bamboo. But what happens if you crash it? Will the bamboo break? Brüning says a bamboo tube might crack lengthways, but fixing it should be as simple as repairing a puncture.
"You can always ride a bike when the tube is broken." he explains. "You can repair cracks because you can just add some epoxy in between and can glue it together quite easily."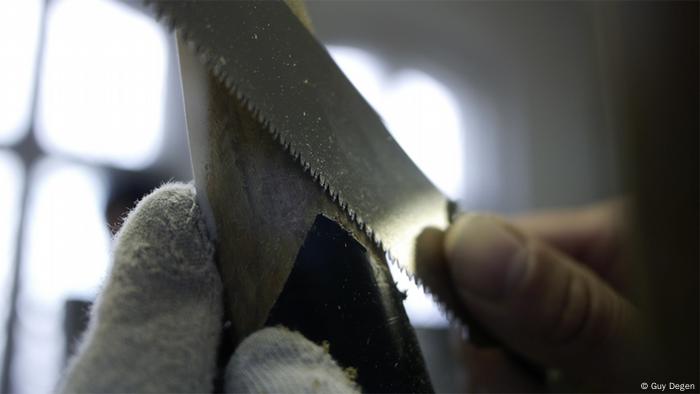 Preparing bamboo tubes before wrapping joins in natural fiber cloth
Build your own bamboo bike
Bicycle courier Marc Brockmann has been visiting the workshop on weekends to build his own bamboo bicycle. As someone who has to ride a bicycle the whole day there were many things that made bamboo attractive, he says.
"I'm not getting any younger and I think the comfort of the ride is better than an aluminum bike. I think there's more flexibility and absorption," Brockmann explains, noting that a lot of his bicycle courier colleagues are curious about his bamboo bike and want to ride it when it's finished.
There's a growing demand for bamboo bicycles around the world with small enterprises building frames in the US, Ghana, Zambia and Singapore. Vogel-Essex says he can see bamboo bicycles becoming more popular, but adds that bamboo is best suited to custom made bicycles rather than mass production. Both he and Brüning hope that their bamboo frame building techniques will be adopted by others.
"There's a saying, 'steel is real,'" says Vogel-Essex. "Everybody says steel is the material for the best ride quality. I actually want to make a bumper sticker that says, 'bamboo is realer!'"