The night of Wednesday was the last time people not flying to or from Tempelhof were be allowed in the building, and the final take-offs followed one day later, marked by a farewell gala.
Supporters of the airport tried to save it, but a public referendum in April 2008 that would have called for its preservation failed to attract enough votes.
The city of Berlin and the German government, who own Tempelhof, have wanted to close it for years, citing costs and declining passenger numbers. Last year a mere 350,000 passengers flew through Tempelhof, compared with 19 million for Berlin's two other airports.
But many people still feel very passionate about Tempelhof. Berlin Mayor Klaus Wowereit has reportedly received death threats about the closure.
And no less an expert on architecture than Norman Foster, the Englishman who designed the new glass dome on Berlin's Reichstag has called it "the mother of all airports."
Mother's history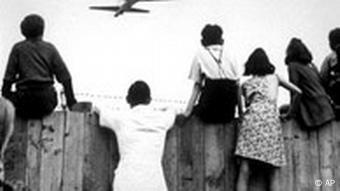 Berlin residents associate the airport with the Airlift
Planes were taking off and landing at Tempelhof in 1923. But it first took on the dimensions for which it became famous a decade later under the Nazis, when architect Ernst Sagebiel built its 286,000-square-meter main building.
That made Tempelhof the largest building in the world in terms of square area. It still ranks among the world's top 20 and is regarded by many as an architectural masterpiece.
After World War Two, what had been a symbol of fascist monumentalism became the central point of the 1948-49 Berlin Airlift, in which the Allies kept the German capital supplied with necessities despite a Soviet blockade of the Western part of the city.
From 1950 to 1975, the airport was the center of commercial air traffic in Berlin. It was then replaced in that function by the more modern Tegel Airport since its relatively short runways precluded larger passengers planes from taking off or landing.
But Tempelhof reopened to commercial passengers in 1985 and was used mostly by short-haul business commuters and vacationers.
Plans to permanently shut Tempelhof began gaining momentum in 1996, and the city of Berlin and the city's airport holding company estimate that it has run between 10 million and 15 million euros ($12.7 million and $19 million) in the red every year.
Berlin is hoping to build a massive new airport on the city's eastern fringe by 2011.
Uncertain future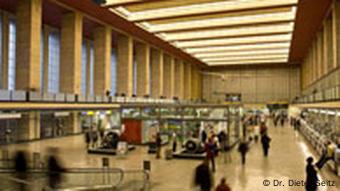 A film studio may take over part of Tempelhof's unique architecture
No one knows what will become of the more 3.5-million-square-meter site when planes no longer take off and land there.
There has been talk of using parts of the main terminal building for a cultural forum, and the film studios in nearby Babelsberg have also discussed using the facility for shooting movies and producing and storing props and costumes.
The external grounds could be converted into a park and/or developed as housing property. The city of Berlin plans to stage an open competition to solicit ideas for how the site should be used and is currently having the Tempelhof complex surveyed to determine its exact value.
But delays in utilizing Tempelhof are themselves costly. Architects estimate the annual costs caused by the facility in its dormant state at 11.85 million euros -- roughly what Tempelhof was losing while it was in operation.
The building itself is listed, ensuring that the airport which saw so much history remains at least partially preserved for future generations.