Those who love Beethoven's music both in Germany and beyond have good reason to hope that Germany's new coalition government takes shape as planned. In order for the government to form officially, members of the junior coalition party, the Social Democrats (SPD), must vote in favor of governing together with Chancellor Angela Merkel's Christian Democrats (CDU).
The SPD's base will be asked to ratify or reject a coalition platform that includes mention of the "Beethoven Year" of 2020, which marks 250 years since the composer was born in the city of Bonn. Page 132 of the coalition contract contains the following statement, "The 250th birthday of Ludwig van Beethoven in the year 2020 offers excellent opportunities for profiling German culture at home and abroad. Preparing for this important anniversary is thus of national concern."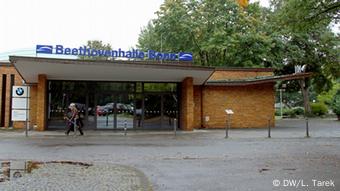 Many in Bonn feel the current Beethoven Hall is in need of an update
Positive resonance
In Beethoven's hometown, the passage has been interpreted as a clear signal from the federal government that it will support planned celebrations in Bonn.
"It ensures that responsibility for the content of this important celebratory year won't get lost in the shuffle of small municipalities; instead, the federal government is taking matters into its own hand. That's at least as important as financial questions, which will also be easier to settle given this coalition contract," said Stephan Eisel, the chair of the Bonn association Citizens for Beethoven.
'Citizens to thank'
Federal parliamentarian Claudia Lücking-Michel from Bonn also said she's pleased to see her city and Beethoven's 250th birthday earn such fanfare at the national level.
"We have the citizens above all to thank for this service to Beethoven - in terms of taking initiative and making concrete proposals. We will be in close contact with Bonn residents who have been active on the matter as we continue to develop plans," said Lücking-Michel.
New concert venue?
For years, a number of Beethoven lovers in Bonn have sought funding for a new festival venue to accommodate the city's annual Beethovenfest. Stephan Eisel says the new coalition contract might make the new building a reality. But planning remains complicated, despite a pledge from the federal government to contribute 39 million euros ($53.1 million).
Supporters would like to see a venue that's on par with Beethoven's celebrated artistic legacy and international renown, particularly given the upcoming celebrations in 2020.