The concert Daniel Barenboim conducted on Tuesday afternoon was the first time such a large group of international classical musicians had performed in the Hamas-run Gaza Strip.
The event also marked the first time the 68-year-old maestro, well-known for his reconciliation efforts in the Israeli-Palestinian conflict, had managed to enter Gaza. For nearly five years, the area has been isolated by an Israeli blockade.
"This is a unique gesture from the whole of Europe for you, Gaza," said Barenboim Tuesday at the start of the concert. "You have been blocked here for many years. And this is why we all came today (…) not only to give you solace and maybe pleasure in listening, but so you understand that many people from all over the world care for you."
A message of peace Most of the audience members had never attended a classical concert
For many of the 700 people in the audience, it was the first time they had attended a classical concert, with some breaking into spontaneous applause after each movement.
The performance will make a difference because Barenboim "is bringing a message of peace," Fatma Shahin, an English teacher accompanying schoolgirls from the Jabaliya refugee camp, told AFP news agency. "The girls will like it because it gives them a message - a chance to think before judging people."
Put together especially for the event, the 25-member "Orchestra for Gaza" played Mozart's "Eine kleine Nachtmusik" and Symphony No. 40. The one-hour concert was held at a beachfront hotel in the northern Gaza Strip.
The ensemble included players from five of Europe's top orchestras: the Berlin Philharmonic, Staatskapelle Berlin, the Orchestra of La Scala di Milano and the Vienna Philharmonic. The musicians had entered Gaza via the Rafah border crossing in Egypt earlier on Tuesday.
Controversial support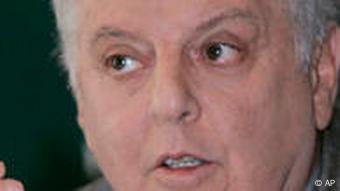 Barenboim is well-known for his peace activism in the Middle East
Barenboim has stirred controversy by publically opposing the Israeli occupation of the West Bank, where he has also performed, and actively promotes Arab-Israeli exchange. In 1999 he co-founded the West-Eastern Divan Orchestra, together with the late Palestinian-American academic Edward Said, which is made up of young Arab and Israeli musicians.
"I am a Palestinian," Barenboim said at the concert, reaping applause from the audience. "I am also Israeli, so you see it is possible to be both."
The conductor took honorary Palestinian citizenship in 2008 and also holds Argentinean, Israeli and Spanish passports. He lives in Berlin.
Author: Kate Bowen (AFP, Reuters, AP)
Editor: Stuart Tiffen