Uruguay striker Luis Suarez was greeted by scores of fans and President Jose Mujica when he landed in the capital Montevideo on Friday. The Uruguayan leader joined hundreds of fans gathered at the airport to support the Liverpool striker after his suspension for biting Giorgio Chiellini in a World Cup group game against Italy.
The suspended player and his family left the airport, with local media reporting they were headed for a home in the coastal resort of Solymar. Suarez, 27, is yet to comment publicly since FIFA banned him from nine competitive Uruguay matches and from all football-related activities for four months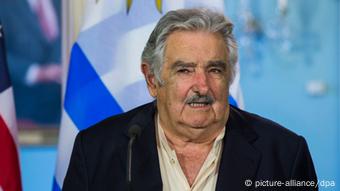 Presdient Mujica greeted Suarez on his premature World Cup return
Sponsor 888poker on Friday said it had terminated a sponsorship contract recently signed with the Uruguayan on the basis of his behavior against Italy on Tuesday. Penned just last month, the betting firm said the contract could no longer be upheld.
"888poker signed Luis Suarez following a fantastic season for which his achievements were widely recognized," the company said of Suarez's league-high 31 goals for Liverpool in the English Premiership season. "Regrettably, following his actions during Uruguay's World Cup match against Italy on Tuesday, 888poker has decided to terminate its relationship with Luis Suarez with immediate effect."
Suarez also has a deal with German company Adidas, who have removed him from their World Cup promotional material. Adidas has said it will meet with the player after the World Cup to discuss their future relationship.
Players' union, president, bitten Chiellini offer support
In a radio phone-in show co-hosted by Argentine star Diego Maradona, President Mujica accused FIFA of double-standards in its treatment of Uruguay. Mujica said that it would "not cost FIFA much to be harsh with Uruguay as it is a tiny nation," calling the ban an "act of aggression" against Uruguayan fans. Maradona himself, famed for his outspoken nature and occasional gaffes, went further.
"Who did Suarez kill? This is football, this is contact," Maradona said. "They may as well handcuff him and bring him to Guantanamo Bay."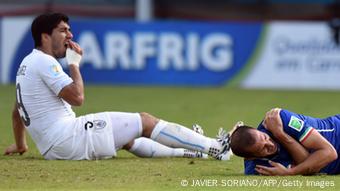 Suarez was not sent off for the incident at the time
The international players union FIFPro voiced reservations about the severity of FIFA's suspension on Friday, saying that banning Suarez from club football was problematic when his misdemeanor came in international competition. Suarez will not be able to represent his employers, Liverpool Football Club, until the end of October. More traditional suspensions handed out for misbehavior in international football do not impact on club games; the same applies in reverse.
"The fact that Suarez is prohibited from working for a long period must be addressed as it directly infringes his right to work. Also the fact that Liverpool FC is affected needs to be an important issue," FIFPro said in a statement. "Luis Suarez should receive all the support he needs to deal with any off-field issues he may be experiencing at this time. This means that the focus should be on the rehabilitation and serious treatment of the player."
Even Chiellini, whose shoulder bore the marks of Suarez's jaw on Tuesday night in Natal, questioned the severity of the sanction for repeat-offender Suarez, who has made the headlines for biting in the past with both Liverpool and former club Ajax Amsterdam.
"Now inside me there's no feelings of joy, revenge or anger against Suarez for an incident that happened on the pitch and that's done," Chiellini said in a statement on his website. "I believe that the proposed formula is excessive."
The ban is the longest ever issued by FIFA for a World Cup offense. Similar examples of extended suspensions do exist, however. Manchester United's French forward of old Eric Cantona was famously banned for eight months by the English Football Association in 1995 for kicking a supporter in the stands, who had reportedly shouted abuse at Cantona.
msh/jm (AFP, AP, dpa, Reuters)