Sheikh Ali Salman must serve nine years in jail for inciting hatred and calling for regime change by force, the appeals court in Manama ruled on Monday, upholding a sentence it had handed down earlier this year.
The 51-year-old Salman, a Shiite opposition leader who called for a constitutional monarchy in the Sunni-led country, was arrested in 2014, sparking protests in the country. He was later sentenced to four years in jail.
The appeals court then more than doubled his sentence, to nine years, in May. In October, the court of cassation overturned that ruling and ordered a retrial.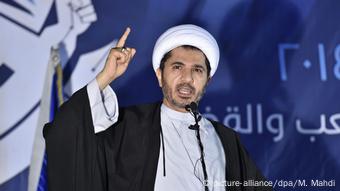 Ali Salman speaking during an al-Welfaq meeting in 2014
Opposition group dissolved
Salman had previously seen his al-Wefaq Islamic Society dissolved after a court ruled that the group had encouraged violence and mass demonstrations. Al-Welfaq was the largest Shiite opposition group in the parliament's 40-seat Council of Representatives until 2011, when 18 of its members resigned in protest against the government's crackdown on Arab Spring-inspired demonstrations.
After the lower court ruled against the group in July, an appeals court upheld the ruling in September, warning that al-Welfaq's actions could provoke sectarian strife.
Those protests were quashed with the help of the Saudi military after the Obama Administration pressured the government to pull its own armed forces off the streets.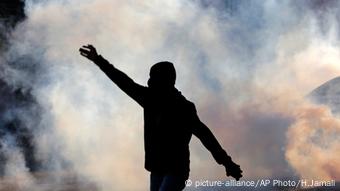 People took to the streets earlier this year to commemorate the fifth anniversary of the uprising against the government
Activists cry foul
The announcement on Monday immediately drew fire from critics and international rights groups like Amnesty International, part of an ongoing chorus calling for the government to cease its crackdown on the Shiite opposition.
"Today's shocking verdict is another example of Bahrain's flagrant disregard for the right to freedom of expression," Amnesty's Middle East Deputy Director of Campaigns, Samah Hadid, said in a statement. "The international community can no longer turn a blind eye to the Bahraini authorities' relentless persecution of government critics and human rights activists with the sole purpose of crushing any form of peaceful dissent or opposition to the government."
Meanwhile, Human Rights Watch on Monday called for the release of another person in Bahrain, the human rights activist Nabeel Rajab, who was arrested in June for criticizing the government's participation in the war in Yemen. "Rajab shouldn't have been arrested in the first place and countries like the UK, France and Germany should be loudly calling for his immediate release," said Joe Stork, the organization's Middle East director.
blc/jm (AFP, dpa, AP)