According to an exit poll conducted by broadcaster ORF on Sunday, independent candidate Alexander Van der Bellen has been elected Austria's next president after winning 53.3 percent of the vote.
"From the start, I have always fought and argued in favor of an Austria that is pro-European," Van der Bellen said on public television.
Right-wing candidate Norbert Hofer conceded defeat after garnering 46.7 percent of the electorate, confirming he would not challenge the result. Reacting to the result on Facebook, Hofer said he was "infinitely upset."
"I would have liked to take care of our Austria," Hofer wrote.
Van der Bellen's victory on Sunday comes as a blow to Europe's right-wing populist movements, which were anticipating a boost ahead of next year's elections in France, Germany and the Netherlands.
Christian Kern, Austria's chancellor and a Social Democrat, congratulated Van der Bellen shortly after the exit poll was announced.
"I see a good day for Austria," Kern wrote on Twitter. "Now to jointly ensure that no one sees himself as a loser."
International approval
In neighboring Germany, Vice Chancellor Sigmar Gabriel also congratulated Van der Bellen, saying that a "huge weight had been lifted off of Europe."
"Should the forecast be confirmed, the result of the Austrian election will be a clear victory of reason against right-wing populism," the Social Democrat told German newspaper "Bild."
French President Francois Hollande hailed the news, saying "the Austrian people have chosen Europe and open-mindedness," while Greek Prime Minister Alexis Tsipras called Van der Bellen's victory "a breath of fresh air in times when Europe is threatened by the rise of the far right."
European Parliament President Martin Schulz joined the international chorus of relief, calling the Austrian election "a heavy defeat of nationalism and anti-European, backward-looking populism."
Pro-European liberal
Van der Bellen had the backing of Austria's Green Party, but ran as an independent in Sunday's election.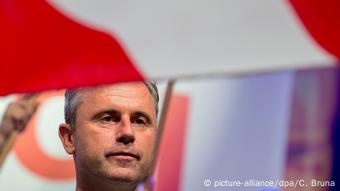 Though disappointed, Hofer said he would not challenge the result
A pro-European liberal, the 72-year-old aspires to a fence-free "United States of Europe" and is a supporter of gay marriage.
During the bitter 11-month campaign, he won the support of many young Austrians and celebrities, calling for the country to be guided by "reason not extremes."
The first exit poll indicated a 3.6 percent increase in support for Van der Bellen, who narrowly won the original runoff election in May - less than 31,000 votes ahead of Hofer.
A successful appeal by Hofer's euroskeptic and anti-immigration Freedom Party (FPÖ), however, meant that results were annulled.