Austria's forest region is a Buddhist monk's dream: cut of from the rest of the world, with unspoilt landscapes and few inhabitants. When South Korean Buddhist Monk, Bop Jon Sunim, stumbled across the place on his travels as a missionary, he was immediately struck by its positive energy.
Sunim chose the village of Gföhl, with 3,700 inhabitants, as a fitting place to erect a 30-meter high Buddhist temple, with a capacity for 200 people. The center was designed to be a Buddhist retreat in the heart of Europe. But it's a project that has divided the local community.
Gföhl's mayor, Karl Simlinger, did not initially make any objections. The project was to be funded by private money. Simlinger hoped that the presence of Buddha in Gföhl would boost tourism.
Right-wing objections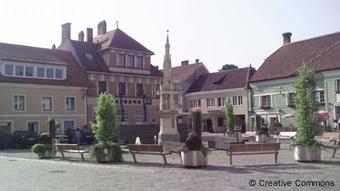 The picturesque village has 3,700 inhabitants
But right-wing populist politicians from the Freedom Party of Austria (FPÖ) and the Alliance for the Future of Austria (BZÖ) raised objections: They claimed a Buddhist temple would destroy the picturesque landscape and cultural traditions in the area. Though in fact the abbot of the nearby Catholic monastery had nothing against the plans.
For Bop Job Sunim, the temple was to be a monument to world peace. But he had not reckoned with the reaction of the locals. Mayor Simlinger decided that the people should decide. In a referendum on Sunday, 67 percent of locals voted against the plans. The turnout was 52 percent.
For Simlinger, it's a binding result: "I think it's a sign of the democratic maturity of our local community," he said.
But Elisabeth Lindmeyer disagreed. Her foundation was to have funded the construction. With Buddhist composure, she's now on the lookout for another location for the temple.
"We respect the decision," she said. "In Buddhism there are neither victories nor defeats."
Author: Andreas Meyer-Feist, Vienna / ji
Editor: Gabriel Borrud