Karlheinz Böhm died aged 86 after a long illness at his home in Grödig, near Salzburg late Thursday, a spokesperson from his aid organization announced on Friday.
As an actor, Böhm was primarily known for his role as Emperor Franz Joseph in the much loved "Sissi" films alongside Romy Schneider.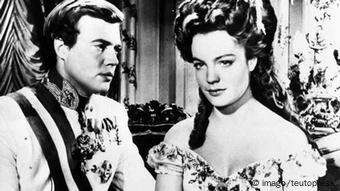 Böhm with co-star Romy Schneider
Böhm was also the founder of the aid organization Menschen für Menschen, or People for People. The charity helps people in need in Ethiopia and has been led for some years by his Ethiopian wife, Almaz. Last December, she gave up her position as CEO of the organization in order to care for her husband.
Böhm

was born

on March 16,

1928 in

Darmstadt, Germany

and grew up in

Hamburg

and Dresden.

He

originally wanted

to be a pianist

, but the success of

his father,

the world-famous

conductor Karl

Böhm,

set the bar

too high.

He later broke off his studies in

art

history t

o take

acting lessons

in Vienna.

In the

spring of 2013

it was announced that

Böhm

was suffering from

Alzheimer's.
hc/jr (dpa, AFP)