Stephan Kramer, the secretary general of the Central Council of Jews, told the online newspaper Netzeitung that there was an "apparently dangerous situation" in certain parts of eastern Germany and that the authorities should warn foreigners not to settle in those areas.
"Yesterday, it was people of color, today it's foreigners, and tomorrow it could be gays and lesbians, or, perhaps, Jews," Kramer was quoted as saying on Wednesday.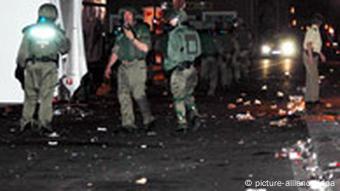 Some 70 police officers were engaged in breaking up the assailants
He lamented the lack of a coordinated "nationwide plan of action" when it comes to right-wing extremism and accused German politicians of taking up predictable positions without re-evaluating their strategy in combating racism.
"In the last few months, nothing really changed in the way this topic is treated," he said. "Instead, we've lost a lot of time and have new victims to mourn for."
Measures against right-wing extremism falls under the jurisdiction of Germany's family ministry. The ministry has allotted 24 million euros ($32 million) this year for outreach programs that promote tolerance, many focusing on anti-Semitism and xenophobia.
According to Kramer, however, the ministry is unable to cope with the issue and should be relieved of this responsibility.
"The interior ministry has the necessary experience and the know-how for dealing with the issue," he said. "The family ministry is overwhelmed."
Excess of violence
Police are still investigating the incident
The German government meanwhile has condemned Sunday's attack, in which eight Indian men were pursued through the small town of Mügeln in the state of Saxony by a mob of around 50 youths shouting racist slogans.
Around 70 police officers were needed to break up the assailants. In the ensuing melee, all eight Indians and four Germans -- among them two police officers -- were injured. Two of the wounded had to be treated in hospital.
The minister responsible for reconstruction in the states of former East Germany, Wolfgang Tiefensee, spoke on Tuesday of an "unendurable excess of violence."
Volker Kauder, head of Chancellor Angela Merkel's Christian Democratic (CDU) parliamentary group, expressed shame and disappointment.
"I am deeply hurt that something like this is possible in our country," Kauder told the Frankfurter Rundschau newspaper.
Saxony's premier, Georg Milbradt, also a CDU member, said that such a form of violence, "whether it's directed towards foreigners, or locals, cannot be tolerated." He warned, however, against jumping to conclusions and pleaded in an interview on national television for an objective police investigation of the case.
On Tuesday, some 200 demonstrators gathered in Mügeln to condemn the attack.
Rekindled debate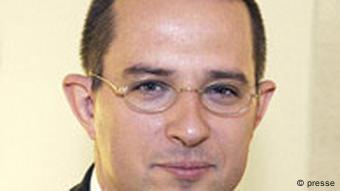 Stephan Kramer say the government is not doing enough
Indian Ambassador to Germany Meera Shankar also voiced her concern over the incident and called for measures to be taken so that such events could be avoided in the future.
"It has to be ensured that there is no repetition of such a thing," she told Berlin's Der Tagesspiegel newspaper, also calling for a thorough police investigation of the attack.
Shankar said an Indian diplomat had been dispatched to Mügeln to speak to the victims and discuss the security situation with officials in the area.
The debate about right-wing extremism and, in particular, the so-called "no-go areas" in eastern German states, was sparked shortly before the soccer World Cup in 2006, by a former government spokesman, Uwe-Karsten Heye, who said at the time that non-whites were not safe in some areas of former East Germany near Berlin.
The incident in Mügeln has rekindled the debate.
"People with dark skin have a much higher risk of being attacked in eastern Germany than they do in western Germany," said Sebastian Edathy, a member of the German parliament's internal affairs committee.
Saxony is a stronghold of the extreme right-wing National Democratic Party (NPD), which received 9 percent of votes in a state election in 2004 and is now represented in the state parliament in Dresden.