With his dark suit, designer glasses and handmade shoes, Leo Lübke is a man with style. And he has a mission: to encourage good taste in German households. For him, that means fewer, carefully selected pieces of furniture.
Until recently, he didn't know to what extent German homes already match his ideal. But the question is not unimportant to Lübke, whose furniture company, Interlübke, recently celebrated its 75th anniversary.
Lübke decided to invest in an in-depth study on Germans' living habits. It was carried out by the research institute Emnid, which had conducted similar surveys in 1961 and 1989.
The results were surprising and disconcerting - at least for a manufacturer of fine furniture.
Apple doesn't fall far from the tree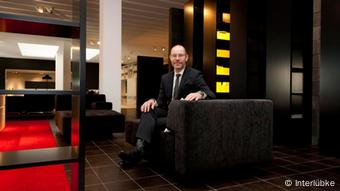 The study helped Leo Lübke adjust his approach
According to the study, Germans' taste has changed very little over the last five decades. Architects and interior designers for years have been advocating open floor plans and loft-like rooms that blend working and living areas. But the structure of many older residential buildings simply does not lend itself to these new innovations.
What's more, many Germans simply don't want to live that way.
For 73 percent, the kitchen is exclusively reserved for cooking, while 78 percent don't want computers and other work-related tools in their living rooms. Only six percent like the idea of an open, multi-purpose living area.
"As professionals, we can see that we have lived in an ivory tower," said Leo Lübke. "Living styles have a lot to do with habit and tradition. People arrange their homes like their parents did."
A closer look at the individual items people put in their homes proves Lübke's point. Ninety-five percent favor an expansive sofa in the living room, while 78 percent also want a television and coffee table there. The majority still want curtains (77 percent), wallpaper (64 percent) and rugs (61 percent).
In making decisions about home décor, most pass over the glossy magazines and take the conservative route instead, consulting their families (83 percent) or friends (62 percent. When buying furniture, practicality and price take precedence over design.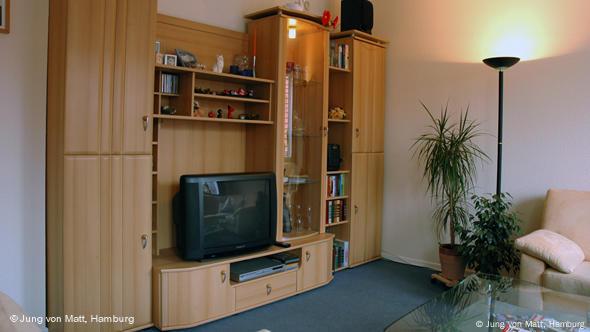 A typical German living room: Is the wall unit doomed?
My home is my castle
Interpreting these statistics has been a challenge for researcher Klaus-Peter Schöppner from the Emnid Institute. As Lübke inferred, professional in the interior design industry have a different take on style than the average person.
Nevertheless, Schöppner's study has shown that for Germans, their home is more important than ever: 68 percent called it the most important area in their life. Just 58 percent considered the question of how to spend free time as "very important." And the car, once considered of the most important accessory for Germans, came in third, with 37 percent saying it was a very important part of their life.
"Germans are conscious about how they live," Schöppner commented. "They don't want anyone else telling them how to live."
In a time when many Germans are working harder and longer hours, the importance of feeling comfortable at home has grown. They long for a place where everything is exactly the way they want it - a haven, where they can relax and not a place dictated by the ideas of some designer.
Apartments are mirrors of the soul. That message comes across clearly in the blog "Friends of Friends," where Frederik Frede and Tim Seifert have been profiling people in their homes for the past three years. The duo only visit people they know personally, or who are friends of friends. That can be anyone from a young entrepreneur to an artist or a surfing instructor.
"No matter how limited people's budgets are, we were always excited by how well the people and their homes fit together," said Tim Seifert. Needless to say, the results of the study didn't come as a surprise to the two bloggers. Ultimately, they said, everyone is their own designer.

The bedroom is not a gym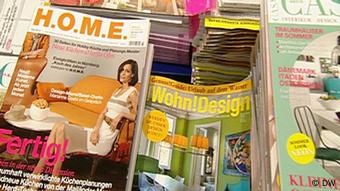 Design magazines have only limited influence
Leo Lübke has since come to grips with the results of the study he commissioned. After all, it has provided some valuable insights for his company, for example that Germans don't actually want to put workout equipment or large sofas in their bedrooms.
"At least now we don't have to think about furniture for the bedroom," said Lübke. "People want a bed and a wardrobe there and nothing else."
However, designers are still working on getting rid of one cherished piece of furniture in German households - the wall unit. Furniture manufacturers like Lübke and researcher Klaus-Peter Schöppner agree this piece of furniture won't be around much longer. The introduction of e-books and iPads mean that Germans need less storage space and will tend to favor small display cabinets for selected memorabilia.
The days of meter-long cabinets and shelves made of rustic oak are over, they predict. The next study will show whether they are right.
Author: Kerstin Hilt / bos
Editor: Kate Bowen