Arson attacks on refugee shelters, massive demonstrations by right-wing populists and threats against those who actively work to improve the lives of immigrants. Often negative headlines such as these are what dominate media coverage on immigration in Germany. Meanwhile, the fact that there is, at the same time, a wave of solidarity with and a willingness to help refugees almost gets lost in the flood of sometimes shocking imagery.
A study by the Berlin Institute for Integration and Migration Research (BIM) at Humboldt University wants to change that. In an online survey, researchers interviewed a total of 466 volunteers and 70 organizations in hopes of answering two questions: who helps and why?
Educated and united
Despite the limits of the small-scale study, its researchers are certain that they can already discern clear trends, says Serhat Karakayali, a co-author of the BIM study.
Refugee work in Germany is a question of education, according to Karakayali.
Seventy percent of volunteers were female. Most of them were financially secure and educated. Of those questioned, ninety percent had obtained the "Abitur," Germany's high school diploma equivalent for students planning to attend a university.
Above all, young adults and senior citizens were active in refugee homes. According to the study, religious convictions didn't play an important role in becoming a volunteer. More than half of those questioned responded that they were not religious, while just 12 percent of those surveyed pointed to their beliefs as a motivation for getting involved.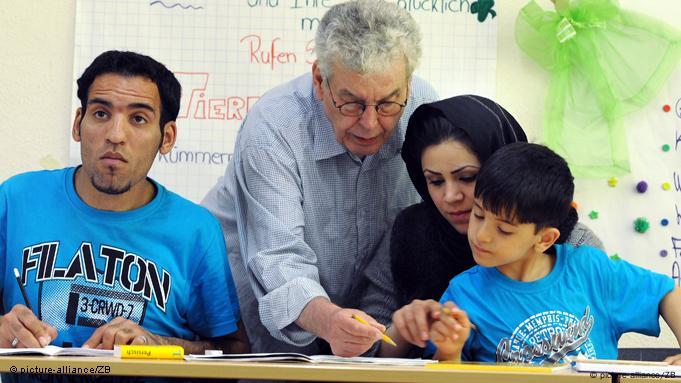 Integration courses help immigrants adapt to everyday life in Germany
The authors attributed most volunteers' motivation to news coverage of the refugee situation in Germany.
"Many became active spontaneously," according to Serhat Karakayali.
According to the study, most became involved on their own, in neighborhood organizations or in small citizen's groups. About one-third of respondents said that their efforts were coordinated through sport clubs.
"Very few are actually active in associations, 3.7 percent to be exact," the study said.
A high level of political involvement was also characteristic for volunteers.
"[They] are not primarily concerned with why people have fled," says Serhat Karakayali. "They are sympathetic to all forms of migration and flight."
Political ideals
According to the study, "two-thirds of respondents said that they wanted to help shape society with their efforts," leading the authors to conclude that many volunteers were not motivated by personal and professional gain.
In most cases, those surveyed spent much of their time helping refugees navigate German bureaucracy. Often, it was up to the volunteers to establish contact with authorities. Beyond that, they frequently acted as translators or organized private language lessons.
Politics lagging behind
The researchers made a series of recommendations for the German government, emphasizing that these tasks should not really be the responsibility of volunteers.
"We can clearly see the dangers of volunteers having to take over tasks that should really be shouldered by the state," Olaf Kleist, co-author of a paper published by the Refugee Studies Centre at Oxford University, says.
The only way to prolong the kind of volunteer involvement emerging spontaneously around Germany is if "existing organizations [supported] volunteer initiatives with money and know-how."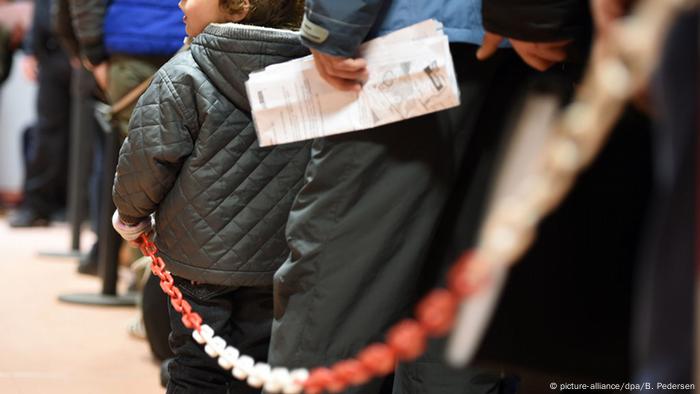 Many refugees reportedly must rely on volunteers to navigate German bureaucracy
Above all, authorities have to become better adjusted to refugees, according to the study. Paperwork and visits to authorities must be structured in such a way that asylum seekers can navigate them without being dependent on help from volunteers, regardless if they must go to social services, schools, or youth welfare services.
The authors also recommended that German authorities adopt a telephone translation service for refugees, similar to one already in place in Australia, in order to remove language barriers for bureaucrats and non-German speakers alike.
However, the study's author, Serhat Karakayali, concluded that the study underlined an important turning point in Germany: "volunteer refugee workers are living the example of what politicians have been talking about for years, namely the transformation of Germany into a welcoming society."