Dozens of police surrounded the Limbecker Platz shopping mall in Essen on Saturday after receiving what they said was credible evidence of a terror attack the day before.
Security services cited by the German tabloid newspaper "Bild" described the threat as a potential multiple suicide bombing.
As well as the mall, nearby parking garages and an underground rail station were all placed in lockdown while sniffer dogs searched the area.
"We received very serious indications from security sources that a possible attack was planned here for today and would be carried out," a spokesman for Essen police told the Reuters news agency. "That is why we were forced to take these measures."
Police later ordered the shopping center, one of the biggest in Germany, to remain closed for the rest of Saturday, adding they now believed they had foiled an attack.
On Saturday evening police announced the investigation was ongoing, and thanked people who had responded via social media or by telephone during the security operation.
An 'Islamic State' plot?
The German Press Agency and "Bild" quoted security sources as saying the plot was believed to be the work of the self-styled "Islamic State" (IS) militia.
The sources said a German man who traveled to Syria to fight alongside the group was the suspected mastermind. He had reportedly been in contact with a number of people in the Essen area to organize the attack, and had also sent them bomb-making instructions via an online chat.
An interior ministry spokesman in the state of North Rhine-Westphalia, where Essen is located, declined to comment on reports about "IS" involvement in the foiled plot.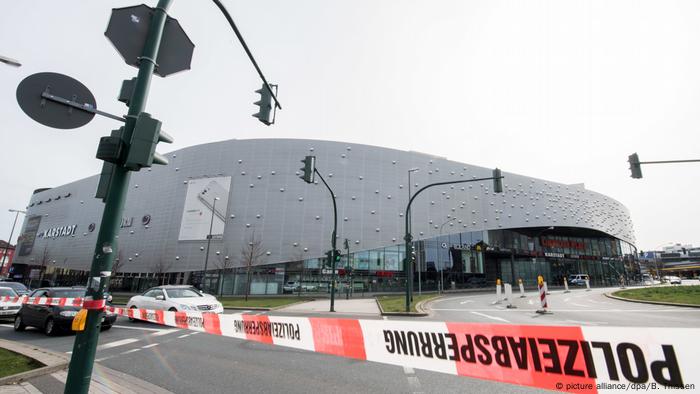 Essen's shopping center was closed for the day
Two arrests made
Two men in the nearby town of Oberhausen were arrested in connection with the threat. One was questioned after a police search of an apartment in the town. Another was taken in for questioning from a nearby internet cafe.
Security sources told the German Press Agency that while the pair had been in contact with the German militant in Syria, they were not being treated as would-be perpetrators.
Germany on edge
According to its website, the Limbecker Platz shopping center has more than 200 stores and attracts up to 60,000 people on a regular Saturday.
Germany remains on edge following a series of attacks over the past year, including when a failed Tunisian asylum seeker drove a truck into a Berlin Christmas market in December, killing 12 people.
Last July, a German-Iranian man, who police say was obsessed with mass murderers, shot dead nine people at a Munich shopping mall before turning the gun on himself.
"IS" has claimed responsibility for attacks in Germany in the past year, including the murder of a teen in Hamburg, a suicide bombing in Ansbach and an ax rampage on a train in Würzburg that injured five.
nm/jm (AFP, AP, dpa, Reuters)