A source at Argentina's central bank told the Reuters news agency that Fabrega had handed in his resignation on Wednesday afternoon "in a way that was impossible to decline."
The resignation was confirmed by a spokesman for Argentine President Cristina Fernandez Kirchner, who herself had appeared to criticize Fabrega on Tuesday - ostensibly blaming him for rising inflation and capital flight.
The president's comments concerning Fabrega came after New York judge Thomas Griesa found the country in contempt of court for apparently skirting his orders for the country to pay off the debts to the hedge funds ahead of other creditors.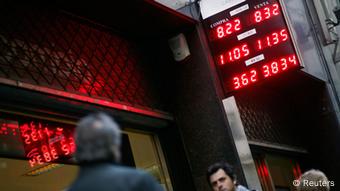 The markets reacted with panic to news that Fabrega was about to resign
Argentina defaulted on $100 billion debt in 2001 - the largest default in history at the time. Buenos Aires persuaded 93 percent of its creditors to incur losses of up to 70 percent on the face value of their bonds. However, the hedge funds won a case against Argentina, which was ordered to pay in full.
Fabrega was understood to have been in favor of negotiating with a group of holdout creditors who have refused to accept a write-off of part of the debt that Buenos Aires owes to them. Kirchner has previously described the hedge funds Aurelius Capital Management and NML Capital as "vulture funds."
Warning of assassination
In her speech at a governent event on Tuesday, Kirchner alleged that domestic and US interests were pushing to devalue the Argentine peso, topple her center-left government and even suggested that Washington might want to assassinate her.
Investment bank analysts expressed concern about the departure of Fabrega, who has been described as a "voice of reason" as the government struggles to keep economic pressures from spiraling out of control.
"Not a good sign," Goldman Sachs analyst Alberto Ramos told the Reuters news agency. "Fabrega was perceived to be a moderating voice and someone that really understood financial market dynamics."
Even ahead of Fabrega's departure, as rumors circulated that he was on his way out, the Buenos Aires stock market fell 8.22 percent on Wednesday to close at 11,516.28 points.
rc/av (Reuters, AFP)