The German Book Prize has been awarded by the German Publishers and Book Sellers Association since 2005 for the best German-language novel of the year. The relatively new, but meanwhile renowned award is modeled after the UK's Man Booker Prize and France's Prix Goncourt, and aims to publicize contemporary German literature. Deutsche Welle spoke with Maike Albath, head of this year's jury, about the newly published long list.
Deutsche Welle: Ms. Albath, 20 books have now been placed on the German Book Prize's long list. In other words, they're the best books of the year. But the jury looked at 10 times that number in making its selection. In doing so, were you able to pinpoint a few topics that writers are particularly interested in at the moment?
Maike Albath: Yes. A few authors are addressing East Germany again, but in a completely new way. Angelika Klüssendorf, for instance, in her book "Das Mädchen" ("The Girl") depicts a childhood in the GDR in which an atmosphere of complete neglect reigns. It's a story of neglect and negligence - matter-of-factly told from the perspective of a girl. It is both very impressive and pithy. Klüssendorf conveys the psyche of this girl with breadth, yet without completely picking apart her inner world.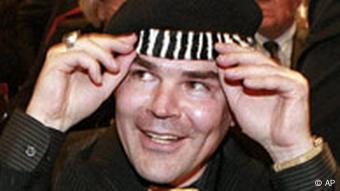 Tellkamp's 1,000-page tome about GDR life won in 2008
Then, there's Eugen Ruge's "In Zeiten des abnehmenden Lichts" ("In Times of Fading Light") - a late debut. This is about GDR nomenclature from an entirely different perspective, more historically grounded over three generations. It's about exiles who return to the GDR from Mexico, about a historian completely convinced of GDR ideologies, and about a renegade son who escapes to the West.
There's also Judith Schalansky's novel "Der Hals der Giraffe" ("The Giraffe's Neck") - which likewise depicts late offshoots of the GDR. It tells the tale of a teacher working in the period after the fall of the Berlin Wall, but who still adheres to East German ideology.
Taken together, they're an inventory of the East, an inspection of feelings, even over 20 years after the fall of the Wall.
There have been quite a few depictions of life growing up in the GDR in the past few years. One author even received the German Book Prize three years ago for his story: Uwe Tellkamp for his massive book "Der Turm" ("The Tower"). Is there a different way of approaching things now? Or is it still the personal stories that are being told?
That's definitely the case with Angelika Klüssendorf. With Judith Schalanksy and Antje Ravic, the latter of whom wrote "Sturz der Tage in die Nacht" ("The Fall of Days into Night"), they're trying more to explore what these ways of dealing with each other unleashed in people - also within the political system -, and how they changed and contorted lives.
Of course, there's the counterpart to all of that - West Germany - and how writers depict it by looking back at their own lives. It's a stock-taking of the current situation. There's Jan Brandt's depiction of a pharmacist family in provincial East Frisia, "Gegen die Welt" ("Against the World"). Thomas Melle's "Sickster" also tries to analyze and diagnose everyday life in this day and age. It's the decadence of life in West Germany, told from the perspective of those graduating from high school in 1994.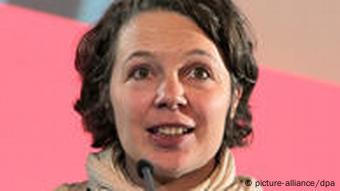 Writer Melinda Nadj Abonji won last year's Book Prize
There's Wilhelm Genazino's "Wenn wir Tiere wären" ("If We Were Animals"), and his style of depicting inner impoverishment and the "used life" his protagonist - whose existence seems to be determined by others - suffers from.
Another very important contribution is Peter Kurzeck's "Vorabend" ("Eve"), which looks at post-war life in the state of Hesse. He has a very musical way of telling his story and conveying the changes occurring in society - like the village shop closing down, and refrigerators and radios finding their way into the most modest of homes.
The German Book Prize is intended to publicize and popularize German literature. What do you think is particularly interesting for an international audience?
The international audience - according to my experience abroad - is very interested in modern German history. For stories written about the GDR, and how they're written; how people dealt with these systems, in which their lives were rooted. I think that can be relayed just as the current period in Germany can, such as in Navid Kermani's "Dein Name" ("Your Name"). Kermani exemplifies a younger or newer biography - someone who has immigrated to Germany, and whose family must try to make a life for itself here. These are certainly subjects international audiences find intriguing - but, more than anything, it's the processing, taking inventory and archiving of East Germany.
The short list will be announced on September 14. The German Book Prize will be awarded on October 10, at the start of the Frankfurt Book Fair.
Interview: Gabriela Schaaf / als
Editor: Kate Bowen