Rector Street, New York City. Here, in the Lower Manhattan district, close to Wall Street, is the old-fashioned multi-storey building where Daniel Libeskind works. Visitors to this place have to pass an obligatory security check downstairs before taking an elevator to the upper floors.
The 63-year-old architect's office is located on the 19th floor. Out of his window one can catch a glimpse of the Statue of Liberty. The office desks are covered in piles of books and notepads, with some photos of Libeskind's Berlin-based grandchildren peeking out in between. The fax machine and telephone ring every few minutes.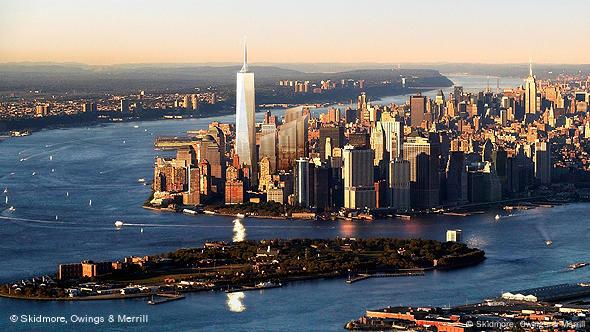 One of his most important projects: the Freedom Tower in New York
Whirr of creative activity
Libeskind has around 70 employees, mostly young people. A large office room is abuzz with activity, filled with computers, draft sketches and wooden models. The walls and ceilings are raw; the heating and ventilation pipes are exposed; the concrete floor is bare and grey. This is the place where Libeskind's various international projects come together - including a recently-opened entertainment and shopping center in Las Vegas.
At the moment, Libeskind and his team are working on a theater complex in Dublin, a military history museum in the German city of Dresden and a project for the University of Hong Kong. Libeskind's wife Nina manages the office and answers the administrative queries of their staff of 140 located around the world.
The walls are covered with Libeskind's designs for the successor to the World Trade Center. Aside from the Jewish Museum in Berlin, this plan for Ground Zero is one of his most significant projects.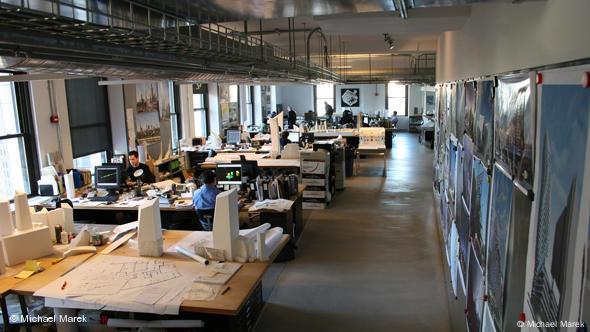 Libeskind's office is a hive of activity
The Holocaust and Polish anti-Semitism
Libeskind was born on May 12, 1946, in the Polish city of Lodz. His father was a painter and printer; his mother worked in a factory. Most of his other relatives had been murdered in the Holocaust. Due to the anti-Semitism they experienced in their country, the family immigrated to Israel in 1957.
"I lived in Poland until I was 11 years old," said Libeskind. "I went to school there and I can still speak, read and write Polish. My parents were Jews; I was a Jew. There was a lot of anti-Semitism in Poland. We didn't belong to the communist party and its sympathizers, so we became a target."
In Israel, young Libeskind began to study music and give concerts. Soon his family moved to the United States, where in 1965 he became an American citizen. He completed his studies in England, majoring in the history and theory of architecture. He then lectured at various universities around the world. Since 2006 he has been regularly visiting the German town of Lueneburg near Hamburg, where he is an associate lecturer.
Libeskind gained international recognition in 1989 when he won the competition for the design of the Jewish Museum in Berlin. This required him to temporarily settle in Berlin with his family, which his Jewish relatives described as "crazy."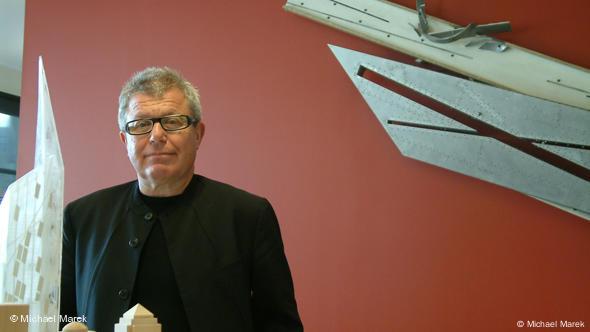 Libeskind is now a US citizen
Late start as an architect
Before he completed his first construction project at the age of 52, Libeskind's work was mostly limited to lecturing.
"My life has developed in a reverse order," said Libeskind. "It started with contemplation, reflection and theorizing, and not with active public work. Only now am I fully occupied and work all around the world. This is good because theory is turning into practice and not practice into theory."
Libeskind has promised to design an extension for the Jewish Museum in Berlin. This time he is not planning to move to Berlin, but claims that he still has the city "in his heart."
Author: Michael Marek (ew)
Editor: Kate Bowen