The head of Germany's Catholic bishops, Robert Zollitsch, is set for an audience with Pope Benedict XVI to discuss recent reports of sexual abuse at church schools.
Zollitsch, chairman of the German Bishops Conference, is due to meet Pope Benedict XVI on Friday, to brief him on some 170 abuse cases at Catholic schools.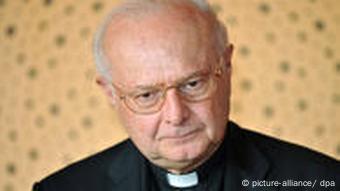 Archbishop Robert Zollitsch denies that the church was responsible for "a wall of silence"
The meeting comes as the Vatican on Wednesday defended itself from accusations that it had been too secretive about the issue of abuse.
'Rapid and decisive' action
Vatican Spokesman Federico Lombardi said that the church had "confronted the emergence of the problem rapidly and decisively," in a note read out on Vatican Radio.
Lombardi said authorities "showed a willingness for transparency and, in a way, speeded the revelations of problems by asking the victims to come forward even in very old cases."
The church issued its defense after German Justice Minister Sabine Leutheusser-Schnarrenberger said a "wall of silence," from the Vatican was hampering probes of sexual abuse of children.
Round-table talks
Archbishop Zollitsch, who is Bishop of Freiburg, also dismissed Leutheusser-Schnarrenberger's criticisms and rejected her call for talks between the government and clergy to specifically investigate abuse in the Catholic Church.
However, Catholic representatives are likely to join Protestant leaders, family associations and school and local officials at government talks to investigate all schools.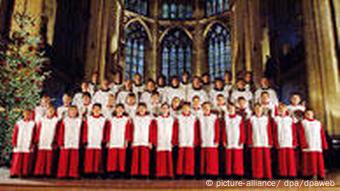 The Pope's brother Georg Ratzinger was choir head for the Regensburger Domspatzen
Meanwhile, there are calls for Pope Benedict to answer questions about whether he had any knowledge of abuse cases during his tenure as bishop of Munich from 1977 to 1981.
Choir school investigated
Among the institutions being investigated in Germany are three church schools Bavaria including one, the Regensburger Domspatzen school, where the Pope's brother Georg Ratzinger was choir head from 1964 to 1994.
"He (the Pope) has to answer the question of what he knew then" said Christian Weisner, a spokesman for the German church reform movement We Are Church, in a statement.
In the Netherlands, more than 300 people have lodged complaints of sexual abuse by priests since the beginning of this month. The allegations follow an investigation into abuse at a monastery school in the east of the country between the 1950s and 1970s.
rc/epd/dpa/AFP/Reuters
Editor: Rob Turner