The two-day event has been organised by members of the far-right Pro-Koeln (For Cologne), who were met with whistles and paint bombs hurled by about 100 leftist activists.
Counter-demonstrators carried signs with slogans including "Stop the Nazi Congress -- Stop Pro Koeln" and a few scuffled with the right-wing organisers. One leftist protester was briefly detained by police, a spokesman said.
Some 3,000 police officers from North Rhine-Westphalia and neighboring states are being deployed in Cologne this weekend in the hope that they'll be able to maintain peace and security.
The organizers from Pro Koeln -- a self-described "civil movement" which has, however, been represented on the municipal council for four years now -- are among the most vocal opponents to a project to build a new mosque in Cologne.
The group used the recent green-lighting of the construction plans to rally together other far-right groups in Europe who share its view that German and Europe are increasingly becoming "Islamicized."
Government, experts label Pro-Koeln extremist
A spokeswoman for the German interior ministry criticised the event Friday, calling Pro-Koeln an "extremist" group that aimed to undermine good relations between Muslims and non-Muslims.
In chorus, a foreign affairs spokesperson for the federal government said: "In our country there is no place for radical right-wing groups who discriminate against minorities under the guise of a citizens' movement."
Wolfgang Kapust, an expert on the far-right definitively labeled Pro-Koeln an extremist grouping.
"You can see it in the biographies of their leaders. They're members of the National Democratic Party, they're in the Republicans, and they established the very radical German League for People and Homeland. And all of these organizations and parties are characterized by far-right positions, racism, and a strong sense of nationalism."
No Koelsch for Nazis
A wide majority of Cologne residents are planning to clearly show that they want nothing to do with the congress. They've made hundreds of signs calling for passive resistance to the event. The city's barkeepers have declared that they will not be serving any of the local Cologne beer, Koelsch, to Nazis. And Muslim groups in this city where every eighth resident is Muslim have planned peaceful gatherings on the site of the planned mosque.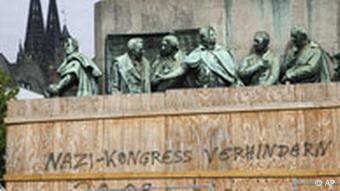 "Prevent Nazi Congress" is scrawled on a Cologne monument
Some onlookers are wondering why the city hasn't banned the congress from taking place. But politician Ruprecht Polenz, head of a Christian-Muslim peace initiative, said that's not so easily done.
"They're clever," he said. "They're not going to show up sporting swastikas. Rather, they'll use slogans meant to pick up on any resentments. There are problems with integration. The question is, how do I handle it? Do I contribute to the problem by reacting aggressively, or do I try, with dialogue, to get to the bottom of things and get closer to a solution?"
Cologne residents to give the cold shoulder
Cologne's city government has also had mixed feelings about hosting the congress, and not because of the bill of more than a million euros the city will have to foot once it's all over. Officials are worried about the bad name that such an event could give a city that prides itself on being an exceptionally tolerant place to live.
Mayor Fritz Schramma has called on residents to show the far-right "the cold shoulder."
"Shut your windows and doors, lower your shutters," he said in a statement. "Make it clear to Pro Koeln and its camarilla: You are not welcome in Cologne."
The right-wing extremists have been denied permission to gather in front of the city's most famous landmark, the Cologne Cathedral. Instead, the event has been relegated to a city suburb.
Whether Pro Koeln's attempt to unify Europe's nationalists will succeed in Cologne remains to be seen. In the run-up to the event, the organizers boasted that big names on the far-right scene would be in attendance -- Jean Marie Le Pen, the head of France's National Front, for example, or the head of the Austria's Freedom Party.
Le Pen, for his part, has already let it be known that Pro-Koeln was lying. He said he had never had any plans to come to Cologne.