Right-wing protesters, including known neo-Nazis, marched through Berlin's government quarter on Saturday, chanting "Merkel must go" and "We are the people" in an anti-immigration rally that drew ten times more people than police had expected.
The right-wing protestors were met by a counter demonstration of roughly 1,000 people from an alliance of left-wing groups, unions, churches and Germany's Turkish Association carrying the banner "Asylum is a right, racism isn't."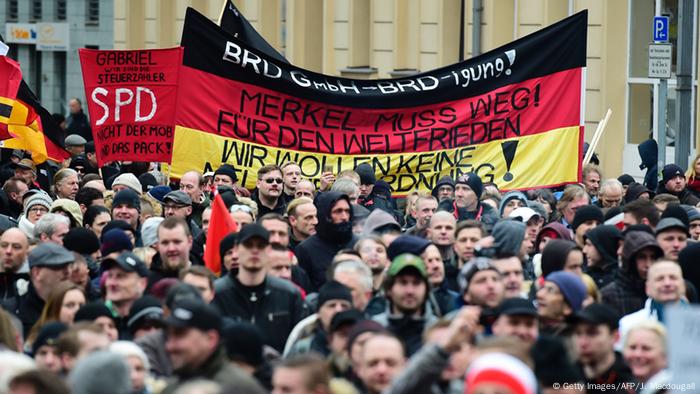 Right-wing protestors called for Merkel to step down over the government's migrant policy.
Nearly 1,300 police were deployed for the protests, in which about 200 counter-demonstrators failed to block the right-wing demonstration from continuing on with the march. Small scuffles occurred with police as they sought to keep the two camps separated.
An influx of more than 1.1 million migrants and asylum seekers has led to a rise in anti-foreigner sentiment among some sectors of the population, putting Chancellor Angela Merkel's open door refugee policy into question.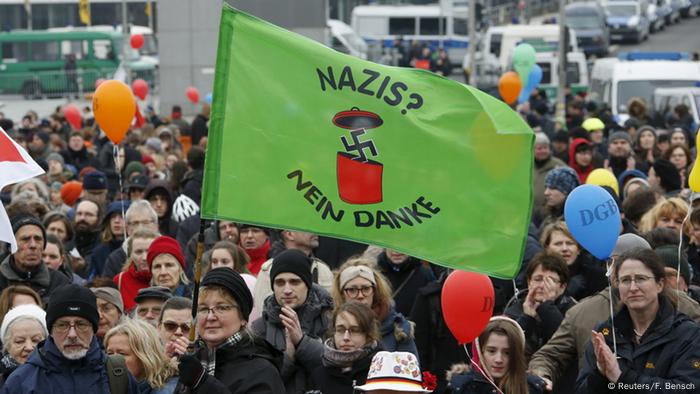 A sign in the counter-demontrations reads: "Nazis? No thanks."
In what is viewed as a major litmus test for the chancellor, three German states will head to the polls on Sunday in an election that could see Merkel's CDU stumble amid a rise in support for the anti-immigrant AfD party.
cw/rc (AP, dpa, epd)