Syrian President Bashar Assad has mooted the possibility of bringing the Syrian conflict to an end on a step-by-step basis, starting with districts that have incurred the worst violence, UN and Arab League peace envoy Kofi Annan said on Tuesday.
Speaking from Iran following talks, Annan said Assad had suggested "building an approach from the ground up in some of the districts where we have extreme violence - to try and contain the violence in those districts and, step by step, build up and end the violence across the country."
Annan refrained from revealing any further details, stating that he needed to discuss the proposal with the Syrian opposition. His comments come after he met Assad in the Syrian capital of Damascus on Monday.
Iran's potential
The UN peace envoy also highlighted the potential importance of Iran in trying to negotiate a peaceful solution to the Syria crisis.
"Iran can play a positive role," Annan said, adding that he would carry on working with Tehran to end the violence in Syria.
Annan then flew to Iraq in order to rally more support for his peace plan through a meeting with Iraq's Prime Minister Nuri al-Maliki. The former UN chief's whistlestop tour of the Middle East comes one month after talks in Geneva on how to end the Syria violence, which Iran was barred from attending, a move that Russia opposed.
Russia offers to host meeting
Russia also passed comment on Tuesday, stating that it would be willing to host a new meeting of world leaders on Syria.
"From our side, I can only confirm that we would welcome the organization of a regular session of an 'Action Group' in Moscow... In any case we see the relevance in carrying out such an event," said Deputy Foreign Minister Mikhail Bogdanov, according to Interfax news agency.
Bogdanov also said that such a meeting should be more inclusive so that Iran could take part.
"Moscow regrets that because of the positions of a number of our partners, Iran and Saudi Arabia were not present in Geneva," he said.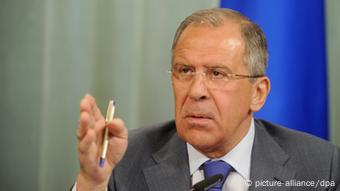 Russian representatives like Foreign Minister Sergei Lavrov say Iran should be included in Syria peace talks
Moscow was also hosting Syrian opposition representatives for talks on Tuesday, but the contrasting positions of Russia and the Syria National Council were clear. Bassma Kodmani, a spokeswoman for the Syria National Council, said the opposition would be looking for hints that Russia may be willing to change its posturing on Damascus.
"We think we and Russia share some positions we can talk about. Russia fears chaos and complete anarchy in Syria and we also fear for our country," she told a news conference.
So far, around 14,000 people have been killed in the Syria conflict, according to observers.
The UN has also estimated that one and a half million of Syria's 22-million population have been affected by the conflict.
sej/ng (Reuters, AFP, AP)