The four-feature German LGBTI Film Days festival, which was coordinated by the German Embassy, was scheduled to start on Thursday and run through Friday in the central district of Kizilay in the Turkish capital, Ankara.
The governor's office said there was a "clear and imminent danger" that certain groups "with certain social sensitivities" would react negatively to the festival. Its content "could incite hatred and enmity towards another section of society," according to the mayor's office.
Pink Life QueerFest, which organized the festival, criticized the move, saying it "deprives us of our constitutional rights," in a statement.
Michael Roth, deputy Europe minister in the German Foreign Ministry, rejected the move, insisting that "the freedom of the arts and minority rights are sacrosanct. This must also apply to Turkey," he tweeted.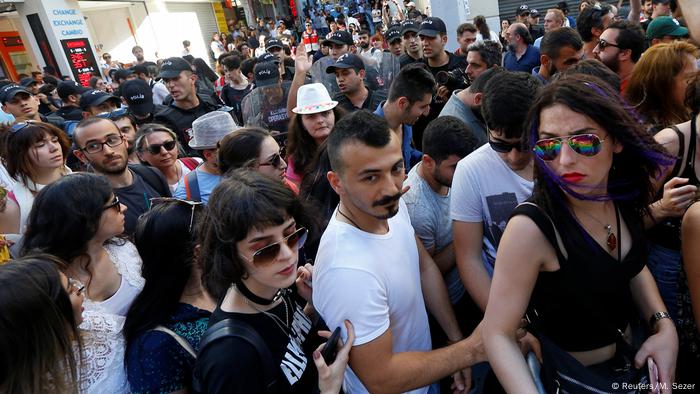 Istanbul's gay pride parade was banned in June 2017 in Istanbul
The ban comes after a number of anti-LGBTI moves by Turkish authorities. The annual gay pride rally in Istanbul — once a hugely popular event — has been banned for three years in a row, also on security grounds.
LBGTI activists in Turkey say their right to freedom of expression is being curtailed under the government of President Recep Tayyip Erdogan, whose politics have been heavily influenced by religion in a country that has prided itself on its secularism since the creation of the modern Turkish republic under Atatürk in 1923.
Homosexuality has been legal since then. It was also legal in the Ottoman Empire from the mid-19th century.
ng/sms (dpa, AFP)