Warning shots were fired outside the presidential palace in Kabul Wednesday, where thousands of people are protesting the gruesome beheadings of seven ethnic Hazaras, Afghan police said.
Widespread anger has erupted in the streets following the murders of the Persian-speaking, Shiite minority whose headless bodies were found Sunday. In one of the largest spontaneous demonstrations in the capital in years, thousands marched to demand justice for the victims.
They had been kidnapped in neighboring Ghazni province earlier this year. Afghan intelligence has dismissed Taliban claims that affiliates of the Islamic State group were responsible for the murders.
Bearing the green-draped coffins of the dead and carrying banners with slogans such as "The Taliban are committing crimes and the government is supporting them," the procession marched more than 10 kilometers (six miles) to the presidential palace.
"The only way to prevent such crimes in the future is to take over all government offices until they wake up and make a decision," 40-year-old demonstrator Sayed Karim, one of thousands who filled the whole of Mazari Square, told the Reuters news agency.
President Ashraf Ghani has condemned the killings and promised that police would investigate. But his words have done little to calm a growing sense of insecurity in the capital since the Taliban briefly seized control of the northern city of Kunduz in late September.
Indignation over unsolved killings in Afghan capital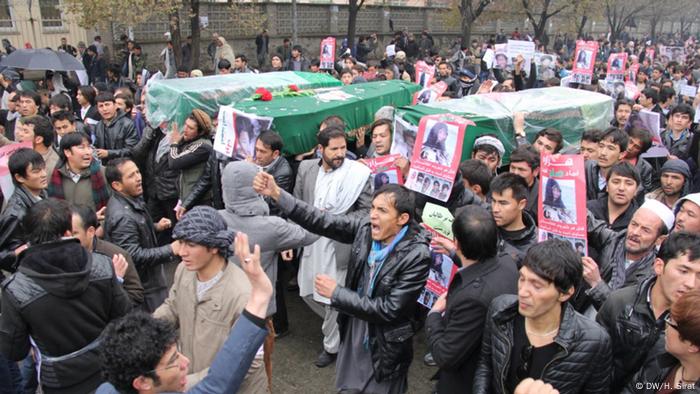 Thousands march bearing the coffins of ethnic Hazara beheaded by unknowned militants and left in the streets of Kabul.
Ghani's national unity government has come under increasing pressure to address the deteriorating security situation in parliament but so far has refused to do so.
"This sends a very dangerous message to the people of Afghanistan, its government and its international allies," said Abdul Rauf Ibrahimi, speaker of the lower house of parliament.
Besides the senseless nature of the killing of the seven civilians - including three women and two children - the beheadings have exacerbated risk that sectarian hatred would destabilize a country already struggling to hold together a mix of different ethnicities.
Demonstrators complain that Hazara people are being killed every day on the roads between Ghazni, Bamyan and Wardak provinces to the west of Kabul. It's in these regions where the Taliban control much of the countryside after international forces ceased most combat operations last year.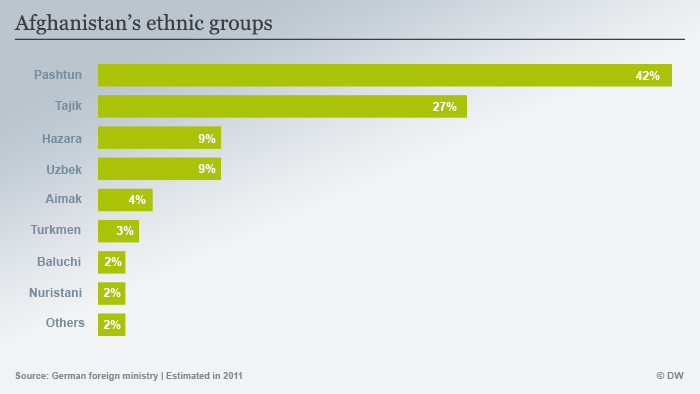 Protesters demanded that the government either take action and bring security to the Afghan people or leave office.
"We want to raise our voice against the barbaric Taliban and ISIS," Abdul Ghafoor, the chief of an organization supporting displaced people, told the DPA news agency. "We want to tell them that the people of Afghanistan have had enough of their cruelty."
jar/jil (Reuters, dpa, AFP)