A video montage of drug- and booze-induced chaos involving semi-naked revellers who smash furniture, eat dog food, and pour beer over each other is typically not the kind of content German viewers expect in a political ad.
But that's exactly what they got from the German Anarchist Pogo Party (APPD) when their election campaign spot was shown on public television for the first time on Monday.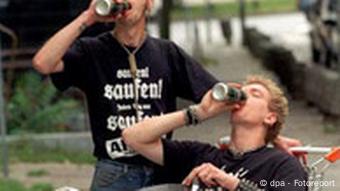 "Drink, drink, every day just drink!"
An estimated million viewers saw the ad, which was already heavily censored, but the resulting collective outrage has still managed to spark discussion about whether or not the fringe group's "message" should have been broadcast.
The APPD's campaign manager told Reuters on Wednesday that the party will continue to run the ad.
"The next broadcast is scheduled for Monday night," he said.
The Hamburg-based APPD is an officially registered political party. Among its stated goals is "humankind's complete and ultimate return to stupidity." Another insight into the party's raison d'etre can be gleaned from the t-shirts it sells via its Web site that proclaim "Arbeit ist Scheisse" or "work is shit."
German newspapers are keeping level-headed about the whole thing, however, reminding readers that the party's roughly 750 members are unlikely to have any discernable influence on the Sept. 18 general elections.