An air of disbelief blew through the empty streets of Washington as the clock struck midnight on October 1. Many, including President Barack Obama, had held out hope that Congress would cut a deal in the eleventh hour to avoid a government shutdown. But the partisan gridlock on Capitol Hill has proved impenetrable.
Usually, Washington DC can best be described as a beehive, with more than 700,000 federal workers, and millions of tourists darting from one national monument to the next each year. The government is the nation's biggest employer. More than 2 million workers rely on it to provide food for their families. But it's estimated that roughly 800,000 federal employees will be furloughed without pay, as many government departments and agencies will leave only essential workers in place to keep the big wheels turning.
Stop paying representatives
Workers trickling into the city on Tuesday morning were faced with the unwelcome news of the shutdown. "I came down today to find out that my contractor got put on hold, and so now I'm waiting for the trains to start back up so I can head home," said one disgruntled contract worker. Others were less patient: "I think they all should be without pay. If we have to go without pay, they should have to go without pay as well."
Key government functions, such as public schools, transportation and services related to national security or public safety were not affected by the federal shutdown, but the hustle and bustle that otherwise saturates the US capital had been reduced to a low drone. Dozens of public museums, memorials, and even the national zoo have been closed, and authorities warn that the shutdown could cost the Washington area alone up to $200 million (148 million euros) a day and up to $1 billion a week nationwide.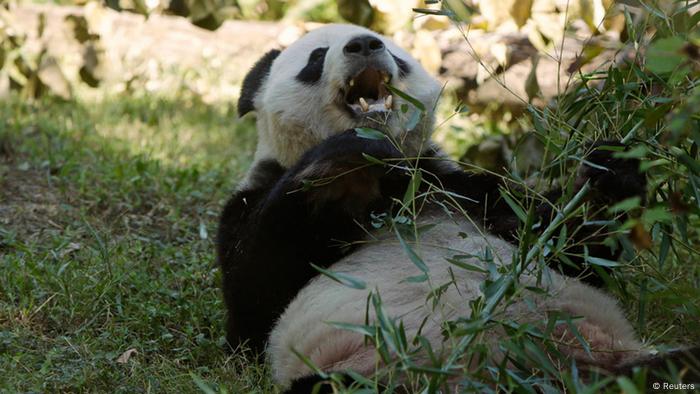 The Smithsonian's National Zoo closed as part of the federal government shutdown
Little public support
It's a new low for the already historically unpopular Congress, whose public support has all but flat-lined at 10 percent. Across the country, many have little but contempt for lawmakers' failure to cooperate and reach a compromise.
According to a CNN/ORC poll, nearly 7 in 10 Americans think shutting down the government for even a few days is a bad idea. Even seasoned Washington insiders worry that the political environment has become so toxic that even trivial bills are being used as ammunition for partisan crossfire. That's cast a long, dark shadow over what many here call the greatest nation on earth. As one man said: "As an American citizen, I'm very angry and very embarrassed. I think it's just an international disgrace."
For people like Travis Culliton, a branch chief with the United States Air Force, Monday's shutdown is another example showing that political leaders have stopped listening to the people they were elected to represent. "I do believe that very few of our Representatives pay attention to what we have to say," said the 41-year-old father of three.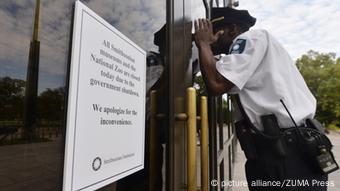 Americans don't like what they see when it come to current political brinksmanship
As the sole provider for his family, Culliton said he and many others are still struggling to get back on their feet after the across-the-board spending cuts that hit federal agencies earlier this year, Culliton said the shutdown is like getting kicked while you're down: "We live paycheck to paycheck and budget tightly. The sequester forced us into bankruptcy. I recently began catching up on our regular bills. My wife and I are having to consider foreclosing on the house, and it will be certain if I lose anymore pay this year."
Culliton added that the effects are felt far beyond the balance of his bank account: "I resent being in this situation and am slightly embarrassed by the stigma of not meeting my obligations."
No improvement in sight
Culliton said he blamed Republicans in the House of Representatives for the shutdown and added that he feels they are holding average working families hostage to repeal Obama's signature health care legislation. Polls show that this sentiment is shared by nearly 70 percent of voters. "The Republicans have tried to blackmail Congress and the United States into accepting a revision of legislation that they couldn't do directly," said one lawyer on his way to work.
According to Jacob Kierkegaard, a senior fellow with the Peterson Institute for International Economics, the situation will get worse before it gets better. He said the Tea Party, led by the Texan Senator Ted Cruz, has hijacked the Republican Party, and its members won't be satisfied until they've repealed "ObamaCare." Kierkegaard said partisan recklessness will extend far beyond Washington.
"There's no doubt that a government shutdown is very costly to an economy that is already not doing very well," he said. "The effects can be very regionalized, because there are many small communities that really depend on the government sector."
Even if the shutdown only lasts a few days, Kierkegaard said it could generate enough uncertainty on the stock market to scare off investors, hamper job creation and cause a significant drag on the still-struggling economy. "After two weeks of this, I think the effect on the economy will be material and it will be negative."
Decisive debt-ceiling debate
And analysts already have their eyes set on the next economic showdown in Washington: raising the debt ceiling to pay for the bills that the US government has already racked up. As Democrats and Republicans careen at a reckless pace from one crisis to another experts have said Americans should prepare for even more partisan brinksmanship in the days and weeks to come.
But according to Kierkegaard, the effects that would result from failing to raise the debt ceiling will likely get politicians from both sides of the aisle back to the negotiating table. The US government is set to reach its current debt limit on October 17.
"The debt ceiling is really the decisive factor here," Kierkegaard said. "Ultimately, that's what's going to force a negotiated solution to both issues."