Rob Messel from the US strutted his way to success at the annual Air Guitar World Championships in Finland on Friday.
Messel, whose stage name is "The Marquis," won the event at the third attempt after missing out on the top prize on two previous occasions.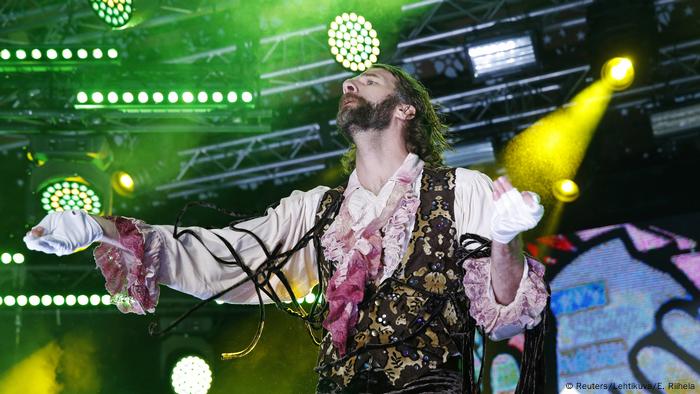 'The Marquis' takes the plaudits as he becomes Air Guitar World Champion
The US national champion beat stiff competition from Australia's Alexander "Jinja Assassin" Roberts who finished second, and third placed Frederic "French Kiss" Reau of France.
The reigning world champion, Namami "Seven Seas" Nagura of Japan, seemed to be somewhat out of tune this year as she tied for fourth place with another US entry, Will "The WizAIRd of Rockenroll" Herndon.
"The Marquis" admitted to nervously pacing up and down just hours before the final but the butterflies did not seem to do him any harm as he won the championships without missing a beat.
Fake blues
Contestants are judged by a jury of five on their ability to pretend to strum a guitar solo. The catch being, they headbang away with neither instrument nor plectrum.
According to the official website of the competition, under the title of 'Make Air Not War', the competition's ideology is that "wars will end, climate change will stop and all bad things will vanish when all the people in the world play the air guitar."
"That's why everyone is invited at the end of the competition to play the air guitar all at once to save the world."
This year's event followed that mantra as the rain fell on the watching audience while finishing with all and sundry strumming away to Neil Young's "Rockin' in the Free World."
The event has been taking place in Oulu, northern Finland, since 1996 with previous winners including "The Destroyer" Michael Heffels from the Netherlands, "The Devil's Niece" Aline Westphal from Germany, and "Günther Love" Sylvain Quimene from France.
Every evening at 1830 UTC, DW's editors send out a selection of the day's hard news and quality feature journalism. You can sign up to receive it directly here.