Seraphin Fodjo can often be found on the sidelines of a dusty football pitch in "La Roue" in Anderlecht, a district in the Beligan capital, Brussels. Fodjo is from Cameroon and coaches young players who ended up here trying to follow their big dreams. "Most of them are from Cameroon, Ivory Coast and Burkina Faso," said Fodjo. Their stories all follow a similar path: "Phony football agents, who know nothing of the sport, meet with families and promise that their kid will sign a contract to arrive in Europe," said Fodjo.
"Struggling parents do the impossible to pull the money together and send their child to Europe. To make the scheme more believable, some 'agents' bring European partners into the equation. They take care of the passport and all necessary documents for the trip. Some families end up paying up to €10,000 ($12,500) for this service."
Read more: Former football star George Weah wins Liberian election
Mo Salah wins African Player of the Year
No passport, no food, no assistance
Children head to Europe with great hopes but they are usually left in a hotel, said Fodjo. "He [a phony agent] then tells them he will soon be back but he never returns. The children are left alone without a passport and eventually are kicked out of the hotel." Many eventually end up with Fodjo where they continue training. They are caught between their hopes of making it big and the fear of being caught and deported. Returning voluntarily would be accepting failure – not an option for the children whose families have invested so much money into their future.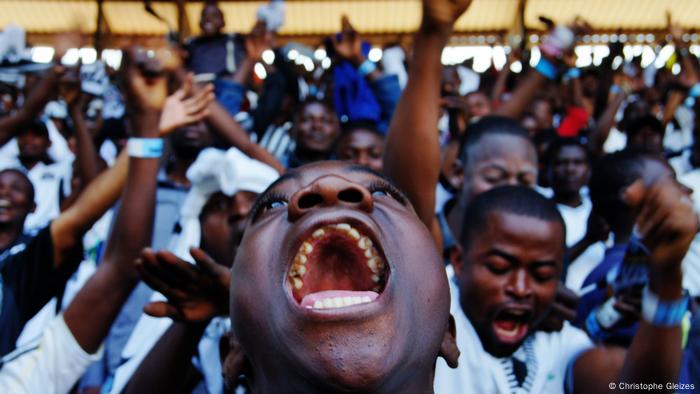 Many young African footballers are brought to Europe on false pretences
Aloys Nong, a Cameroonian footballer went through a similar situation. A so-called agent "discovered" him and convinced him to fly to Europe to pursue a career as a professional footballer. "I had a try-out at Nice's academy. The sporting director wanted me but my agent asked for too much money. Nice were not in the position to invest that much in me." The deal fell through.
Nong, along with eight other boys, slept in a family's living room. They weren't allowed in the apartment during the day. "It was January, it was cold outside and we didn't have warm clothes," he said. The boys often went hungry. "We would go to the supermarket and would eat there. The guard would turn a blind eye as long as we didn't take anything out of the store."
A year later, Nong and the boys were kicked out of the apartment. Nong was able to stay in France with family members to continue his training and ultimately signed a contract with a Belgian side. He currently plays in Iran.
As a kilo of cacao or cotton
But that is not the case for most young players. "Whoever does make it, can earn lots of money," said Cristophe Gleizes, a French journalist who wrote a book on "the modern enslavement of African footballers." An African footballer can earn from 500 to 1000 times more at a European club than they would do playing in Africa.
"It's not unusual for parents to say they have a gold mine at home," said Gleizes, who along with his colleague, Barthelemy Gaillard, traveled throughout West Africa for nine months to research the topic. "African players are handled as traded goods, as if they were a kilo of cacao or cotton. European clubs come here to find cheap labor."
Another problem is that young players willingly become part of the system as they blindly follow their agent's advice. They take on many risks, going as far as forging documents to fake their age. A 15-year-old has better chances of getting looked at than an 18-year-old.
European clubs and the waiting game
The so-called agents are not the only ones making a profit – the European clubs benefit, too. Congolese international Junior Kabananga started his European career at Anderlecht. The current Belgian champions were interested in the striker but wanted to avoid paying the Congolese club FC MK Etancheite a compensation package for developing the youngster as they should according to FIFA statutes.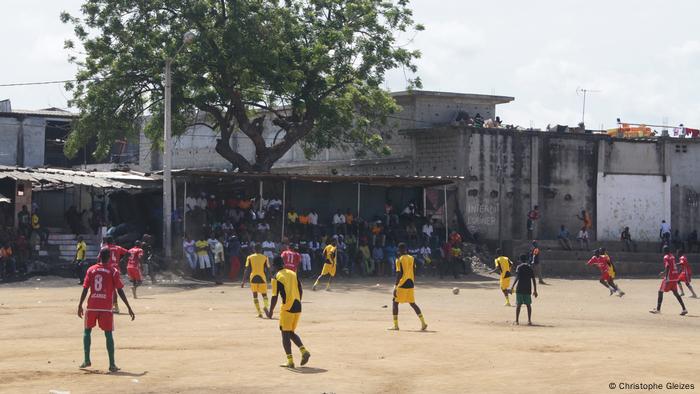 Young African players are encouraged to take risks to play in Europe
"We're talking about the top scorer at the 2017 Africa Cup of Nations!" said Gleizes. "If Anderlecht want a player from Club Brugge, they pay the fee. If Paris Saint-Germain sign Kylian Mbappé, the club will pay Mbappé's first club, FC Bondy, a fee for developing him. But when it comes to African clubs, European clubs refuse to pay." Gleizes claims their tactic is always the same. "Either they wait until the other club gives up legally pursuing the case or they pay the club's heads under the table to close the deal."
Prevention efforts
Sophie Jekeler is a lawyer in Brussels who is familiar with the fate of young footballers from Africa. Jekeler is the founder and executive director of Samilia, a foundation that fights against human trafficking. She says that, while there are laws that protect victims, they are often difficult to enforce.
"Most of these boys enter the European Union through Slovakia, Hungary or Greece. Once they are in Belgium, there's nothing that can be done to help them. First, they would need to go back to the country where they entered the EU to handle administrative formalities and that just isn't possible for them," said Jekeler.
Her efforts are focused on prevention but it is not easy. "Even when children listen to what we tell them, their dream remains. If only one out of 20 people understand our message, at least we can save one person."
It's difficult for these young players to understand whenever professional footballers of the likes of Aloys Nong come out against the system that brought them to Europe. Why would someone who succeeded then try to prevent them from going on an adventure?