Police spokesman Axel Falkenberg put the number of arrests at 125, adding that many of the violent elements had come from outside Germany. Most of those arrested were released after calm had returned to the city.

Among the arrested were protestors from Austria, Bulgaria, France, Japan, Russia, Spain and Sweden, he said.

Workers clearing the streets early Sunday had found tear gas cannisters bearing Cyrillic script, Falkenberg said.

50 people seriously hurt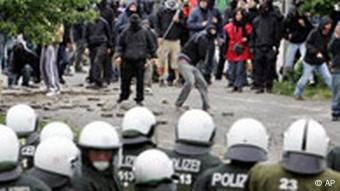 Hooded demonstrators throw stones towards German police officers

Police said 433 officers had been injured, 30 of them seriously, in the clashes that broke out as the demonstrators passed along two routes through the historic Hanseatic port.

The organizers said 520 demonstrators had been injured. Silke Studzinsky of the local emergency services said 20 had been seriously hurt.

The organizers said at least 165 people had been arrested and that lawyers had been hindered in their attempts to assist them.

Assessing police work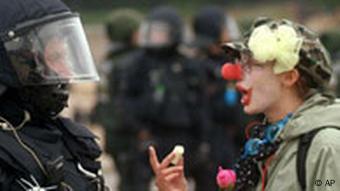 Not all encounters were unpleasant

The organizers blamed a small group of activists that attacked a police vehicle mid-afternoon on Saturday for deliberately sparking the violence.

Manfred Stenner of the Action Alliance said police had maintained a "de-escalatory stance."

But Monty Schaedel, spokesman for the Rostock Action Alliance, called the police response "clumsy and unprofessional."

Police attributed the violence to 2,000 organized elements. They put the total attendance at the rally at up to 30,000, while the organizers said more than twice that number had participated.

The protest was aimed at the G8 summit scheduled to begin Wednesday at the resort of Heiligendamm some 25 kilometers (15.5 miles) away.

Bad image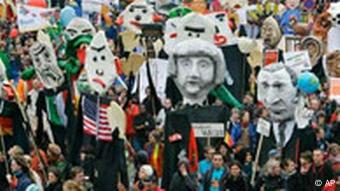 Most protestors remained peaceful

Lorenz Caffier, interior minister for the state of Mecklenburg-Western Pomerania, condemned the violence.

"The image of thousands of peaceful demonstrations was destroyed by 2,000 vicious thugs from the violent political subculture," he said.

Rostock was hosting another political protest linked to the G8 Sunday, with a rally against gene technology and a march to a local gene research institute.