Albania's parliament has voted to establish a special inquiry commission to investigate the violent protests which plagued the capital, Tirana, last week.
In an extraordinary parliamentary session, Prime Minister Sali Berisha accused opposition leaders of attempting to seize power in a failed coup attempt.
"This inquiry commission will examine all the evidence to reveal the truth about the coup d'etat staged January 21 with the aim of overthrowing the constitutional order," said parliament speaker Jozefina Topalli.
The commission will have a three-month-mandate to investigate the violent clashes which took place when tens of thousands of people demonstrated outside the government headquarters in central Tirana.
Three people were shot dead by police in the protests and a fourth remains in a critical condition.
More protests expected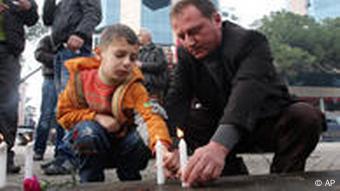 Albanians want answers over the deaths of three protesters
Meanwhile, the opposition Socialist Party and the ruling coalition remain in a deadlock, with both calling for further rallies to take place this week
Despite calls for calm from international representatives, the prime minister has called for his supporters to meet in Tirana on Saturday for an anti-violence rally.
Opposition Socialist Party leader and Tirana Mayor Edi Rama also called for new protests after attending the burials of two of the victims on a day of mourning Sunday.
"You must come to honor the victims, to condemn the violence and the crimes that cost three innocent men their lives," Rama said during one funeral service in the southern town of Fieri.
Albania has been in a political standoff since its last elections in July 2009. The opposition refuses to recognize the results, blocking legislation and reforms in parliament.
Author: Charlotte Chelsom-Pill (AFP, dpa)
Editor: Martin Kuebler