"As we gather today, the largest and most important donor in HIV response has threatened devastating cuts to funding for research and treatment programs," International AIDS Society (IAS) President Linda-Gail Bekker said Sunday at the opening of the IAS 2017 conference in Paris, which some 6,000 health researchers and experts are attending.
Bekker urged the United States to maintain the country's previous financial commitment to research aimed at defeating the deadly virus and warned that the costs of reduced funding would take a human toll.
"Draconian cuts to research and... HIV funding is a catastrophe we cannot afford to see happen," she added in her remarks.
Read more: Music raises disease awareness at AIDS gala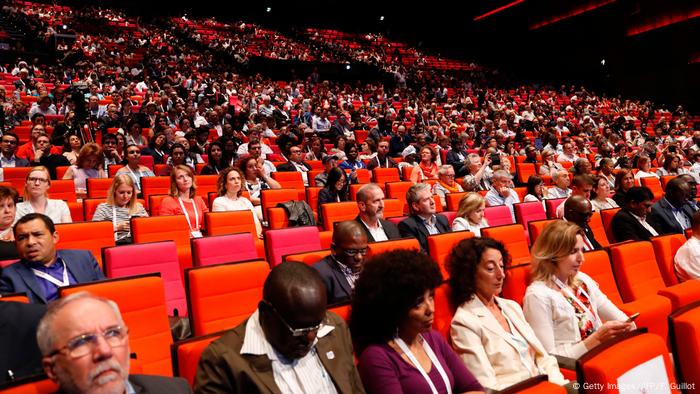 Attendees at the 9th International AIDS Society Conference in Paris
US commitment on the chopping block
The United States is the largest government donor to HIV research, contributing 66.4 percent of all global bilateral and multilateral funding in 2015, according to statistics from the health policy NGO the Kaiser Family Foundation.
President Trump's proposed budget submitted in May called for cuts to "several global health programs, including HIV/AIDS with the expectation that other donors can and should increase their commitments."
The fears of funding cuts floating through the global HIV research community extend beyond Trump's outline budget, however, as the Kaiser Foundation also reported that the total funding for the global fight against HIV decreased eight percent from 2014 to 2015, mostly due to reductions from donor governments for the first time in five years.
Read more: German AIDS charity pledges to achieve zero AIDS diagnoses by 2020
The IAS' Paris conference statement, entitled "HIV Science Matters," called "scientific knowledge the backbone of the HIV response" and warned that progress on the frontlines of battle against the disease "are threatened by a weakening resolve to fund HIV science."
From Sunday to Wednesday, the IAS conference at the Palais des Congres in the French capital unites global health professionals "to meet and examine the latest scientific developments in HIV-related research with a focus on moving science into practice and policy," the welcome statement on the IAS' website said.
Around 37 million people are living with HIV at present, and UNAIDS reports that around half of these individuals use anti-retroviral medicines – a leap from the four percent of individuals who had access to the life-saving treatment in 2003. The organization also reported that AIDS-related deaths have dropped from 1.9 million in 2005 to 1 million in 2016.
Cases of HIV infections are increasing in Eastern Europe and Russia.
cmb/jm (AFP, dpa)