Chinese dissident artist Ai Weiwei raised eyebrows by recreating the image of three-year-old Aylan Kurdi's body, which had made headline news in September 2015.
Ai, who lives in Germany, said that the image in which he is seen lying down on a pebble beach on the Greek island of Lesbos in the same manner as Aylan Kurdi's body, should serve to raise awareness of the refugees' plight. The image drew both praise and criticism on social media.
Photographer Rohit Chawla took the picture for "India Today" magazine. In an interview with the magazine, Ai said that artists had "to be more human rather than political."
Aylan Kurdi had drowned in September along with his five-year-old brother and their mother off the coast of Turkey while trying to make the perilous sea crossing to Greece - like countless refugees before them.
Photographs of the boy stranded on the Turkish shore sent shockwaves around the world, highlighting the extent of the humanitarian crisis created by the Syrian civil war and other conflicts.
Since September, critics have said that the now-iconic image of Aylan Kurdi's lifeless body on a beach outside the Turkish seaside resort of Bodrum has not contributed much to changing attitudes, as refugees continue to drown in Mediterranean waters.
Tanja Häusler, editor of "Spreeblick" - an online magazine with a focus on lifestyle and events in Berlin - is among those who have taken offence to Ai's pose, saying on Twitter that it pushed ethical boundaries. "And don't talk to me about controversial art," she adds.
Ai's response to Denmark's refugee policy
Earlier this month, Ai Weiwei had announced that he would be withdrawing his works from two Danish museums in reaction to new laws allowing the country to seize valuables from immigrants. The Aros Museum in the city of Aarhus and the Faurschou Foundation in Copenhagen had to terminate their Ai Weiwei exhibitions with immediate effect, though both galleries said that they supported Ai in his criticism of the Danish government.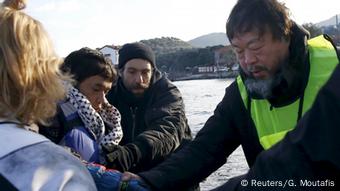 Earlier in January 2016, Ai Weiwei had joined emergency workers on the island of Lesbos treating migrants arriving on makeshift boats
"Basically, it's an insult to human dignity to have that kind of policy," said Ai.
The Danish Parliament had approved a government proposal requiring migrants to hand over valuables worth more than 10,000 Danish kroner ($1,500) to help cover their housing and food costs while their cases were being processed.
"They are shaking, they are wet and they are just trying to escape from war," Ai explained. "But they don't have to be penniless. They are not beggars. This is about their dignity."
"As an artist this is the only thing I can do," he added.
It wasn't the first time that Ai Weiwei had witnessed friction with the Danes. Last year, Danish toy company Lego drew criticism over denying a bulk sale of its plastic toy bricks to Ai, since he was intending to use them for "political works." The artist accused the Danish toymaker of censorship. Lego later dropped restrictions.
More than just art on Lesbos
Ai Weiwei has made the refugee crisis a major theme in his works, dedicating a great deal of resources to documenting the biggest migration trend in Europe since the end of World War II.
He set up a studio on the island of Lesbos, one of the main points of entry into the EU for many migrants, where he said he would produce several projects with refugee-related themes.

Ai said he expected to visit Lesbos several times this year, while several of his students will be working at the studio, creating a documentary film on the refugee crisis and working on a memorial dedicated to refugees, among other projects.
"It's very important to come and be part of it," Ai said.
More than one million migrants and refugees have reached Europe in the past year, fleeing violence in Syria, Iraq, Libya, Afghanistan, and other conflict-ridden areas. About four out of five have traveled via the Greek islands, with thousands drowning in transit.
ss/kbm (AP, AFP, Reuters, dpa)