Pediatrician Ingeborg Syllm-Rapoport passed her PhD's defense examination at the age of 102 at the university clinic of Hamburg-Eppendorf, the German news agency dpa and the Berlin daily "Der Tagesspiegel" reported on Friday.
She was refused admission by the Nazi-influenced university authorities for the oral defense due to her Jewish mother.
According to the clinic, she had already finished her thesis on diphtheria between 1937 and 1938. At the time, she was working with the Israelite hospital in Hamburg.
"With this belated graduation we cannot make up for the injustice that has already occurred but we can contribute to working through the darkest sides of German history at universities," the Dr. Uwe Koch-Gromus said, according to DPA news agency.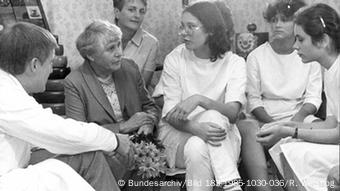 Ingeborg Syllm-Rapoport worked as a highly honored professor at Berlin's renowned hospital, Charité.
Syllm-Rapoport migrated together with her husband, Samuel Mitja Rapoport (1912-2004), to the German Democratic Republic after being in exile in the United States. There she worked at Berlin's renowned hospital, Charité, as a highly respected professor of neonatology.
She is to receive her doctoral certificate on June 9.
ra/kms (dpa, AFP)