Vickie Remoe is a great believer in mobile offices. "I never buy office space. We camp out in hotel lobbies," she said. "They have constant electricity and they have internet." Renting office space, Remeo explained, is an added cost you need to avoid as an young entrepreneur.
Born in Sierra Leone, Remoe left the country when her mother, a diplomat, was posted to the Sierra Leonian embassy in Ethiopia in 1994. At that time a civil war was raging in Sierra Leone, it would later end in 2002.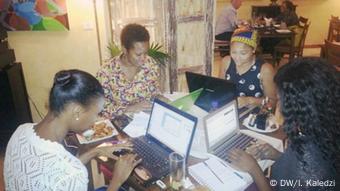 Vickie Remoe and her staff hard at work at La Villa Boutique Hotel in Accra
After completing her university education in the United States, Remoe decided to return to Africa. She settled in Ghana in 2012 and began creating the magazine Gowoman, one of the few publications in the region that promotes women's issues, which first hit the newsstands this year.
Remoe also publishes a news and entertainment blog called Swit Salone which covers stories from Sierra Leone, Ghana, Liberia and other West African countries.
'Talk and activity'
She is convinced that entrepreneurs in Africa are full of talent and ambition. The problem is finding financial backing. "There are a lot of activities involving start-ups and incubation entrepreneurship in Africa, there is a lot of talk and activity, but there isn't always a lot of funding to support the activity," she said.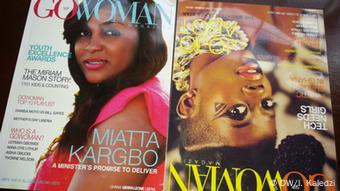 One of the few African publications to tackle women's issues
Access to credit can be difficult because of high interest rates. "You end up relying on your family, your network and you have to be extra innovative to be a successful entrepreneur in Africa," Remoe added.
Remoe started her business with less than $1,000 (730 euros), money that she had saved or that she had received from family and friends. Now she has a staff of five - three full-time, an intern and a graphic designer on contract.
Remoe now wants to expand beyond Ghana and her home country Sierra Leone. She wants to set up offices in Liberia and Nigeria - mobile ones, of course!