Norway striker Ada Hegerberg was rewarded for her prolific form with Champions League winners Lyon as she took the first-ever women's Ballon d'Or prize at a ceremony in Paris on Monday.
The 23-year-old who has won three Champions League crowns, four French championships and three French Cup titles, saw off competition from Wolfsburg and Denmark's Pernille Harder who finished just six votes shy of Hegerberg in a vote by 45 journalists from around the world.
"I want to say thanks to my teammates because this would not have been possible without them, my coach or our president, Jean-Michel Aulas," she told the star-studded audience.
'It's all about how we respect women's football'
Hegerberg, who scored a tournament-record 15 goals for Lyon in the Women's Champions League last season, called the award "a huge step for women's football." However, she also expressed frustration about living "in such a man's world" and said the award will not make her reconsider her refusal to play for Norway because of her unhappiness over perceived inequality.
"A lot of things need to be done to make the conditions better for women who play football," she said. "It's all about how we respect women's football. I don't think the respect has been there. Sometimes you have to take tough decisions to stay true to yourself. I wish the national team the best, though. We just follow two different paths at the moment. I have no regrets with the decision I made."
However, Hegerberg's sentiments were somewhat overshadowed by an inappropriate comment made by French DJ Martin Solveig, who asked the striker if she knew how to "twerk," a sexually provactive dance made popular by American popstar Miley Cyrus.
<div class="opinary-widget-embed" data-poll="do-you-see-sexual-harassment-as-a-seriou" data-customer="deutschewelleeng"></div> <script async type="text/javascript" src="//widgets.opinary.com/embed.js"></script>
But Hegerberg insisted she didn't feel harassed, saying: "I didn't feel it was like that at all to be honest and I am sad if people thought about the situation like that."
Solveig apologized for any offence, and said it was a "joke, probably a bad one."
Read more: Opinion: Hegerberg deserved better in shining moment
Modric takes top prize
Cristiano Ronaldo and Lionel Messi have had a stranglehold on the Ballon d'Or award for the last decade, claiming it five times each, but during a glittering ceremony at the Grand Palais, just off the Champs-Elysees, it was Modric's night.
"It's a unique feeling. I'm happy, proud and honoured," he said.
After a vote by 180 journalists from around the world, Ronaldo finished second behind his former Real Madrid teammate, with Antoine Griezmann of France and Atletico Madrid rounding out the top three. There was no German representation on the 30-man shortlist for the first time since 2009.
Read more: The two sides of Luka Modric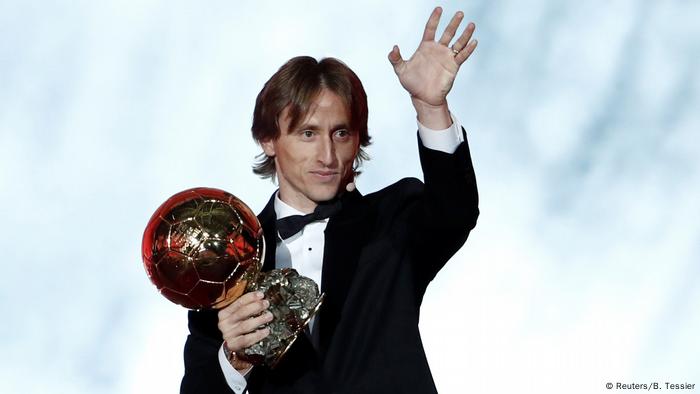 Luka Modric became the first player that wasn't Lionel Messi or Cristiano Ronaldo to win the Ballon d'Or since Kaka in 2007.
The lack of one standout French candidate cleared the path for Modric, who heroically helped his country to the World Cup final before being beaten by France in Moscow. The 33-year-old was also at his influential best as Real retained their Champions League crown for the second year running.
After claiming the Golden Ball for the best player at the World Cup, UEFA's player of the season and FIFA's best player award in which he beat out Mohamed Salah and Ronaldo, the Ballon d'Or is the latest addition to the Croatian's enviable collection of individual awards in 2018.
"Modric is an exceptional player. He has shown that throughout his career, not just at Real but also at his former clubs and with his country," said Real coach Santiago Solari of the player who grew up during Croatia's independence war. "He must have grown up in a very hard context and I wonder if that helped him to have the character he has."
The news follows on from the announcement that Modric will not face charges of giving false testimony in the criminal trial of his former boss at Dinamo Zagreb, Zdravko Mamic, who was convicted in June of evading tax and siphoning transfer fees from the club.
Mbappe takes inaugural Kopa Trophy
Earlier in the night, Kylian Mbappe was named winner of the Kopa Trophy for young player of the year. The Paris Saint-Germain forward, who does not turn 20 until later this month, starred as France won the World Cup and also won the best young player award in Russia.
The new award - named after French former Ballon d'Or winner Raymond Kopa - was voted for by 33 living former winners of the main Ballon d'Or prize. Mbappe was also among the 30 nominees to win that award, finishing fourth. He has scored 32 goals in 56 games for club and country in this calendar year.