Harry Dean Stanton's career spanned six decades, during which time he had supporting roles in films such as "Cool Hand Luke" (1967), "The Godfather Part II" (1974), "Alien" (1979), "Repo Man" (1984), "Pretty in Pink" (1986) and most recently David Lynch's new season of the cult TV series "Twin Peaks."
Read more: Welcome to Twin Peaks: a much-awaited return
In "Paris, Texas," written by playwright Sam Shepard, who died in July, and helmed by German director Wim Wenders, Stanton played an emotionally broken man trying to put his life and family back together.
His final on-screen role is in the upcoming film "Lucky."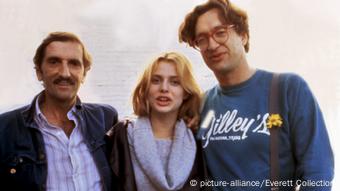 Stanton (left) filmed 'Paris, Texas' with Nastassja Kinski (center) and Wenders in 1984
Worked with Scorsese, Scott, Coppola
Stanton worked with many of Hollywood's most notable directors, including Frances Ford Coppola ("The Godfather Part II" and "One From the Heart"), Sam Peckinpah ("Pat Garrett and Billy the Kid"), Martin Scorsese ("The Last Temptation of Christ"), Ridley Scott ("Alien"), and Lynch ("Wild at Heart," "The Straight Story," and "Inland Empire").
Stanton could be taciturn to the point of mystery. When asked in the documentary "Partly Fiction" how he would like to be remembered, Stanton replied: "It doesn't matter."
Stanton was born July 14, 1926, in West Irvine, Kentucky, to a tobacco farmer father and hairdresser mother who divorced when he was a teenager.
Stanton, who served as a cook at the Battle of Okinawa during World War II, became interested in acting at the University of Kentucky.
He never married but once told an interviewer he had "one, maybe two" sons.
jbh/cmk (dpa, Reuters)