Princess Heide von Hohenzollern holds back her three dogs as she greets her guest on the front steps of her 14th century castle, Burg Namedy.
The 70-year-old princess is dressed casually in a pullover, slacks and sensible shoes. While the pullover is worn on the sleeves, it's hard not to notice the gold rings and necklace she also wears.
She leads the way through to the Knight's Hall. The rich red walls are covered in stuffed deer heads and birds of prey, while two knight statues in full body armor guard the stone fireplace.
"You can call me Princess of Hohenzollern, or just Mrs Hohenzollern," she says, with alarming frankness. "It really doesn't bother me at all."
Becoming a princess
That is possibly to be expected. Mrs Hohenzollern grew up in a typical, middle-class family in Munich as Heide Hansen. In 1970, she married Prince Godehard von Hohenzollern and turned into a princess.
"Suddenly, people become interested in your name, not in who you actually are," she recounts. "It was a difficult thing for me to get used to."
The Hohenzollerns were a mainstay of European history for centuries. The family has spawned German emperors and kings. That came to an end with the Weimar Republic in 1918, when all of the German nobility's legal privileges were abolished. These days just the name and the traditions remain.
Princess Heide von Hohenzollern has been renovating Burg Namedy castle since 1988
"We have a responsibility to stick to our word, to think of others, not just ourselves, and to help the community," the princess says.
A tricky decision
For her, the issue of responsibility really came to a head in 1988. After her husband inherited Burg Namedy, the couple left Munich for a life beside the Rhine.
"When we got here the whole thing was falling apart," she says as she sweeps into the building's gleaming mirrored hall. "There was water coming in, it was full with junk, and all the windows in here were smashed."
Now the dark wood is polished, the mirrors are shining bright, and a team of staff members are setting out chairs for a concert.
"I thought that we would sell this place off immediately," she says. "But we had an idea to make money with events, and we saved it."
Both Heide and Godehard were classical music lovers, and they used the proceeds raised from the many concerts and other cultural events they began holding to renovate their new home. Local authorities also helped with money to get the castle back into a livable condition.
Then, in 2001 Prince Godehard died. Heide was left to look after the building and the business by herself. It was a massive challenge.
The running costs for Burg Namedy are around 10,000 euros ($13,686) a month, and that's without the workers' wages factored in, Heide says.
"You have to have a fighting spirit to keep something like this going," she admits. "There were times when things were tough, when I thought we would have to sell up."
A modern noble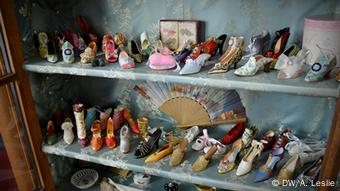 A little bit of luxury: Princess Heide's ceramic shoe collection at Burg Namedy
Now rowdy school classes, overseas visitor groups, concerts and weddings are the weekly business. For some guests, her down-to-earth nature comes as a surprise.
"Lots of schoolkids that visit expect me to be wearing a tiara and a big flowing dress," she jokes. "But that's not really my style."
Princess Heide does allow herself one luxury though: an elaborate glass cabinet full of miniature porcelain shoes and clogs, modeled on famous footwear from around the world, stands in one of the castle's many beautifully furnished rooms.
"It all started on a trip to New York that I made with my husband," she admits sheepishly. "But it's better than buying loads of high-heels for myself, which I will never wear."
For the future, Heide says the castle is in good hands. Her daughter, Anna, got involved in the family business a few years ago, and now takes care of media and press work.
"I wish I had some of the skills she has when I was starting out," Heide says. "But still, that's what life is all about, right? It's a learning process."