Zimbabwe's former leader Robert Mugabe said on Sunday he would not be voting for his successor, Emmerson Mnangagwa, in the country's upcoming election, claiming that the current government was unconstitutional.
"I will not vote for those who have illegally taken power," he told reporters from his private residence in the capital, Harare. "I hope the choice of voting tomorrow will throw, thrust away the military government and bring us back to constitutionality."
In his speech, which was described by several news agencies as "rambling," he blamed "evil and malicious characters" for his ousting, and said he resigned to avoid "bloodshed."
Mugabe's downfall came in November 2017 after the central committee of the ruling ZANU-PF party removed him as party leader and appointed Mnangagwa to take over. Mugabe's ouster after 37 years in power was celebrated by thousands in the streets of Harare.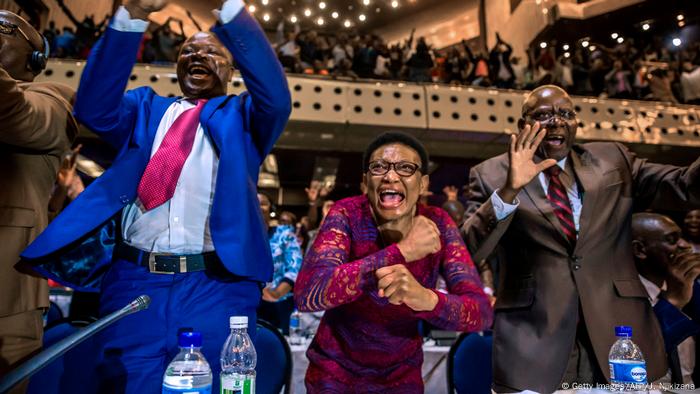 Mugabe's resignation received a joyous reception in parliament
'Utter nonsense'
The 94-year-old Mugabe had been accused of being too old to rule and allowing his wife, Grace, to "usurp" power. On Sunday, he slammed as "utter nonsense" the idea that he had wanted her to take over from him.
Mugabe speech came after months of silence and less than 24 hours before a historic presidential election takes place in the southern African nation — the first without him since Zimbabwe's independence in 1980. It was his first national address since resigning from power.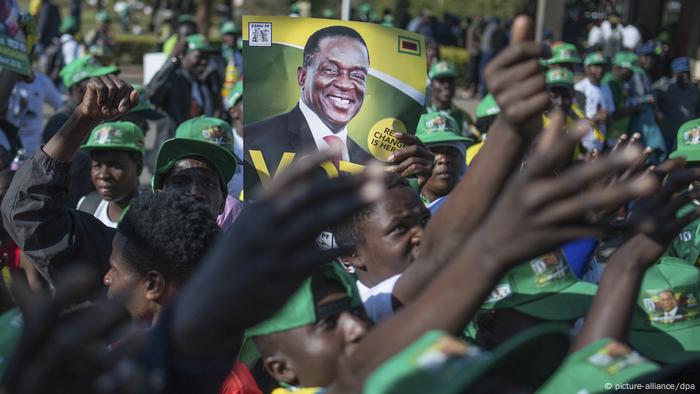 Mnangagwa is Zimbabwe's former intelligence chief
End of an era
Mugabe, whose rule of Zimbabwe became increasingly repressive over the years, called for a "democratic constitution" and the people's freedom to speak. He also urged voters to accept the result, saying: "Whoever wins, we wish him well ... And let us accept the verdict."
Mnangagwa, 75, faces opposition leader Nelson Chamisa, 40, of the Movement for Democratic Change (MDC) in Zimbabwe's landmark vote. Opinion polls, which are considered largely unreliable, have shown Mnangagwa with a slim lead.
kw/tj (AP, AFP, Reuters)
Each evening at 1830 UTC, DW's editors send out a selection of the day's hard news and quality feature journalism. You can sign up to receive it directly here.